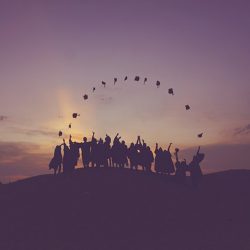 As a Student Success Advisor in Trident's Center for Student Success, I support students from their first session to graduation day. I help new students transition smoothly into Trident, lend a helping hand when needed, and keep them focused on completing their degrees.
As I've gotten to know many of our students, I have been able to learn the true meaning of sacrifice and what drives them to succeed. As I learn each story and why they are pursuing their degree, the word sacrifice is given life.
Daily, Student Success Advisors like myself encourage students to pursue their educational goals, to never give up, and truly embrace the University motto: Aspire, Believe, Achieve. We all do this by ensuring that students have the support they need when selecting programs and courses, understanding the student portal, addressing academic difficulties, and general questions about the Trident Learning Community.
It's a huge honor to be part of our students' support system. Each student's story illustrates sacrifices made in very different ways. To be trusted to know their story, how much they sacrifice as military students, as parents, as working adults, and often times, all three at once, is the purpose of Trident's Center for Student Success.
Talking with students on a daily basis to support them with both their successes and challenges, and helping them achieve their dreams is the best opportunity I could get as a Student Success Advisor.

Jennifer Tejada, Student Success Advisor I
At times, it is easy for students to crave the warm embrace of a nap instead of working on an assignment, but that is one of the many sacrifices our students make to achieve their dreams.
Everyone at Trident is here to help students see that the sacrifice is worth it because one day they'll be able to call themselves "college graduat" and walk across the stage at our annual Commencement Ceremony. The Center for Student Success is wholeheartedly committed to ensuring that students continuously reach every step of their academic journey.
Jennifer Tejada is a Student Success Advisor I at Trident and a graduate of the University's Master of Arts in Education program. She is an active member of the University community, playing an instrumental role in improving the student and employee experiences.