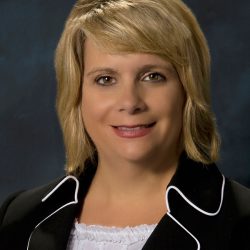 It"s been said that if you love your job, you"ll never work a day in your life.
Dr. Shari Farris, Department Chair in Trident"s College of Education, loves the work she does on a daily basis. She chose a career in education due to her passion for learning, and it"s this passion that drives her when working with Trident"s student community.
During her six years as an online instructor, Dr. Farris has seen communication and relationships as being key drivers of her success. "Students need to know that you as a facilitator are present when they need you," she stressed
By connecting with her students - learning about their backgrounds, building community, personalizing the instruction, and sharing the wealth of tools and technology available - she has found that many of her students also possess a deep hunger to learn.
"When I look back over my career in teaching, learning, and leadership I think those experiences I value most are those where I've felt like I've contributed in some small way in helping to build the capacity of others," Dr. Farris remarked.
"I've taught young children, adolescents, and adult learners. In each case I end up learning and growing myself and each learner I've worked with teaches me a new perspective or unique way of looking at the world. Each reflection or assignment I assign in class is an opportunity for me to learn and grow as well. I consider myself blessed to have those experiences."
Dr. Farris' work as a researcher has bolstered who she is, both as a teacher and a person. A recent article she published in the Journal of Professional Development discusses the importance of using the latest technology available to truly connect with students. Beyond this, some of her research interests include creating high-touch and personalized e-learning experiences for graduate and professional studies students and transformative and strategic action using resourceful leadership practices to promote access to excellence for all learners.
"I see these interests as interconnected," said Dr. Farris. "They all are focused on improving learning and access for all, and they also involve engaging a variety of leaders and educators in solving problems of practice related to quality teaching and learning."
Dr. Farris, like many of Trident's faculty, sees constant opportunities for teachable moments in the classroom. It's not simply a top-down approach - it's an environment where students learn from her, students learn from each other, and she learns from students. And this is exactly the way it should be.
Dr. Shari Farris has over 17 years of service in education as a classroom teacher, school district trainer, school principal, university chair, and college professor. She has worked primarily in graduate online education for the past five years and is passionate about providing high quality course content and meaningful academic support for all learners.