THE VALUE OF COMPLETING A MASTER IN LEADERSHIP PROGRAM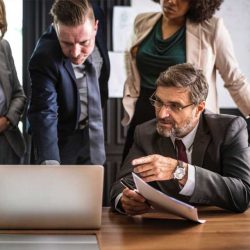 One of the most important skills any professional could possess is the ability to effectively manage and lead others. A professional manager is an expert, trained by education and experience to lead any type of organization. What makes the life of a manager so interesting is that it requires one to address such a wide variety of problems – financial, material, human, legal, political, and environmental – almost every day. No other career can provide such a rich mixture of challenges.
Online masters in leadership programs are dedicated to coursework in the field. Curricula typically delve into the human elements of business, such as communication techniques, leadership theory, multicultural workplace dynamics, and team development. By emphasizing more personal and creative approaches to management, these degrees enable students to work with the emotional intelligence of individual subordinates and inspire them to reach their full potential.
Leadership degrees emphasize the development of big-picture thinking, interpersonal communication, conflict management, teamwork, and problem solving. The possession of good leadership skills is a requirement for managers at all levels and in all kinds of organizations.
Dr. Debra Louis , Dean, Glenn R. Jones College of Business
Some sample job titles might include:
1. Sales manager, training, and coaching
2. Health care administrator
3. Supervisor or department head in business, government, school or similar organization
4. Human Resource manager
5. Management consultant