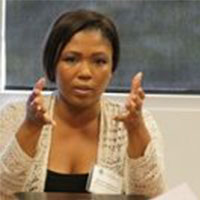 In late 2014, Trident's Career Advising & Development Center launched its successful webinar series. Over the course of this year, we're going to be looking back at many of these sessions, which are filled with wisdom and advice from career center Manager Tanya White-Earnest.
Today, we'll be recapping the very first CADC webinar, "Cool Tools For Your Career Development." In this session, Tanya gave an overview of some of her favorite career-enhancement tools on the web. If you're looking to get your job search going in the right direction, this is a great place to start!
Workfolio:
Simple, personal websites are an effective professional and personal branding technique. Workfolio is an easy-to-use tool that will allow you to build your very own personal website, helping you to highlight your professional accomplishments and increase visibility.
Wordle:
From enhancing your LinkedIn profile to navigating applicant tracking systems, keywords that are relevant to your career and the position you are applying to are important. Wordle helps you to visualize what requirements are most important to employers through a word cloud. By simply copying and pasting a job description into Wordle, you'll see certain words that are larger than their counterparts. These words are larger because they appear more often in the job description, likely due to them being skills or traits that the employer desires, and they should be worked into your resume and cover letter.
PayScale:
Salary negotiation is a key part of any potential new job, and with PayScale you'll be able to see the range of salaries for your desired position or similar positions. Additionally, PayScale allows you to look at salaries in different industries and different cities, the latter of which is important for those who are relocating or transitioning out of the military.
Learn more about these career-building tools – and more – in our archived webinar "Cool Tools For Your Career Development," presented by Career Advising & Development Center manager Tanya White-Earnest.
Tanya White-Earnest manages Trident's Career Advising & Development Center. Tanya has over 20 years' experience in Workforce Education, Training and Development, HR and Career Development. Both her undergrad and grad degrees are in Education, focusing on Training and Performance Improvement. She also has extensive experience working with transitioning military members and was a certified Transition Assistance Program Facilitator.