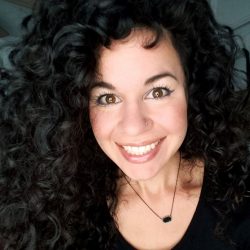 The military experience stretches far beyond the soldier in uniform - it encompasses his/her spouse, children, friends, families, and local communities. Each TDY, deployment, and temporary duty assignment has ripple effects that shifts a greater burden onto those at home, which presents challenges for the military spouse hoping to make strides in his or her career.
Dr. Leandra Hernández understands these challenges as they have been her reality for the past decade.
"The military spouse experience is important for both personal and academic reasons. I am a military spouse and I have been navigating the same career and academic challenges that I research," states Dr. Hernández. "We are the backbones of our families and are incredibly resilient as we navigate military, family, academic, and career challenges."
Dr. Hernández recently co-edited the volume, Military Spouses with Graduate Degrees: Interdisciplinary Approaches to Thriving amidst Uncertainty, which looks at the military spouse academic and career experience through several diverse perspectives. It features chapter contributions from several authors, including two from herself.
One of the goals of the edited volume is to contribute to larger conversations about military spouse career challenges at both national and individual base levels pertaining to career attainment, progression, and tenure.

Dr. Leandra Hernandez
"In showcasing a diversity of writers and academics, my co-editor and I hope to illustrate the wide spectrum of career experiences, goals, and barriers that military spouses face. All of the book's contributors - whether authors or study participants - are military spouses who have advanced degrees and are researchers, professors, course designers, entrepreneurs, and more. The book exemplifies the resilience of military spouses in adapting to whatever comes their way to thrive in academic and career contexts."
Despite the recent focus on increasing available resources for military spouses, Dr. Hernández insists that there is still work to be done.
"Resources are lacking," she states. "Don't get me wrong, there have been great strides at university and national levels to recognize educational and career barriers, and we are indeed thankful for those. However, I'd love to see university and academic leaders work to make stronger employment connections between military spouses and families and community employers."
Not surprisingly, employment is a big concern. "I conducted in-depth interviews with 100 military spouses and almost all stated that they feel that employers are unfairly biased toward them because of their military spouse status, making statements such as, 'They won't hire me because they know we're moving in two years' or 'They won't hire me because I have weird resume gaps because of being stationed overseas.'"
In order to create better employment opportunities for military spouses, it will require better connections and more understanding. Dr. Hernández advises that connections between military communities and hiring organizations at the management and corporate level can help employers understand that military spouses are dedicated, resilient, and determined to succeed.