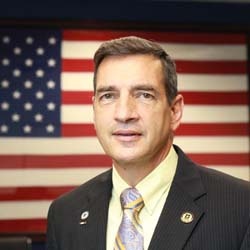 I joined the United States Army when I was 19 years old and I retired when I was 53. As an adult, the military was all I knew. It wasn't just a job - it was my life - and it shaped me into the person I am today.
Transitioning out of the service can be difficult for some men and women because they're saying goodbye to a way of life and returning to the civilian world. Some of these folks, like myself, may have spent their entire adult lives in the service, so the civilian world may seem a little foreign to them.
I did my best to avoid being sheltered while in the Army. I was active and engaged with the local community, my children played sports, and I attended social functions and school events, but for the better part of the day my life and my mind were firmly entrenched in the military.
During the early part of my transition, a psychologist posed a question to me, one that would really put things in perspective for me. I was asked,"If you are not a soldier, then who are you?"
Despite being a confident, self-assured leader, I was stopped cold in my tracks. I didn't have an answer, and it really made me think about my life beyond the military. There was more to life than being a soldier, and it was something that I had to truly take some time to consider. This was my wake up call.
There are many fine, accomplished service men and women who grapple with this same question every day. It can be a difficult question to answer because returning to civilian life can be a challenge, especially if you don't address some of the key questions and concerns.
What are you going to do for an occupation in this new phase of life?
Will you be able to find a job to support your family?
Will you be able to find a new career that you like, one where you can continue to make a difference, like in the military?
You want to go back to school, but where do you start?
This is part one of a special two part blog series from United States Army veteran and Trident's National Director of Military and Veterans Alliances, Philip F. Johndrow. Come back to our blog tomorrow to see the final part of this blog.