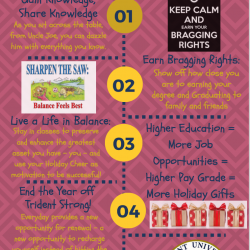 The 2016 holiday season is upon us already, and we all know how busy this time of year can be! Many people adjust their schedules and temporarily eliminate some activities in order to make time for the demands of this hectic season!
With all the shopping, cooking, entertaining, and celebrating, it can be easy to put your education on hold for a few weeks.
Trident encourages you to stay in class during the holidays and here are the top five reasons to do so:
Gain knowledge and share knowledge: As you sit across the table from Uncle Joe, you can dazzle him with everything you know.
Earn bragging rights: Show off to family and friends how close you are to earning your degree and walking across that stage at graduation.
Live a life in balance: Stay in classes to preserve and enhance the greatest asset you have… YOU! And use your holiday cheer as motivation to be successful.
Generally, higher education = more job opportunities = higher pay grade = more holiday gifts!
Finish the year off Trident Strong! Every day provides new opportunities to renew and recharge. If you're willing to learn and have the desire to succeed, completing your educational journey is within your grasp.
Trident wishes all of you Happy Holidays!