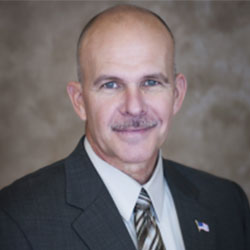 June 3, 2015 – Cypress, CA – Trident University International (Trident) is proud to announce that Steven Hall has been appointed President of Centurion Military Alliance (CMA), effective immediately. Hall, a 25-year veteran of the United States Air Force, previously held this role in 2013, and continues to serve as Senior Director of Military and Veteran Relations at Trident.
CMA started in 2011 to better train, prepare and educate transitioning military personnel and their spouses as they transition from military to civilian life. This non-profit organization serves transitioning military service members, veterans, spouses, families, and primary caregivers to wounded veterans through vetted community partners, versed in providing transition assistance, counseling, and support resources. CMA's path to a successful transition includes educational tools like resume writing, mock interviewing with HR professionals, tell me about yourself speech development, networking best practices, financial readiness, presenting yourself online and the value/purpose of continuous education. Trident has been a CMA partner since 2013.
As Centurion Military Alliance's President, I am humbled to contribute to the organization's noble cause of assisting the world's finest service-members, their families, and caregivers. Although I've retired from active duty service and have taken off the uniform, I remain steadfastly committed to the mentoring, coaching, and supporting of the nation's honorable men and women of today's Armed Forces.

Steven Hall, USAF (Retired) & Senior Director of Military and Veterans Relations
"The military ensures that we have world class training for our missions, but when it comes to transition to civilian life we are required to attend a five day workshop. It is CMA's belief that Military personnel should understand and start to prepare for civilian transition from day one," Chaunte Hall, Chief Operating Officer, Centurion Military Alliance.
Hall, who joined Trident in 2012, works closely with both the military and business communities to secure educational opportunities for active duty service members and veterans. Additionally, he is currently enrolled in the Ph.D. in Educational Leadership program at Trident.
Since retiring from the Air Force in 2006, Hall has worked in the Arizona and California post-secondary education systems, serving in a number of different roles including advising and consulting with senior leadership at the Department of Defense Voluntary Education Program (DOD-VolED), the Council of College Military Educators (CCME), and Senior Military Affairs Advisor to the California Advisory Council on Military Education (CA-ACME).
The 100% online Trident University serves thousands of students and offers four doctoral programs with 13 concentrations, nine graduate programs with 42 concentrations, and seven undergraduate degrees with 29 concentrations.
About Trident University
Founded in 1998, Trident University International (Trident) is a leading online post-secondary university serving adult learners. Trident developed the Trident Learning Model, which employs case-based learning in an online setting to teach real-world relevant critical thinking skills to enhance student's lives and careers. Trident offers high-quality bachelors, masters, and doctoral degree programs, led by a qualified faculty team, over 80% of whom have doctoral degrees. Visit www.trident.edu, Trident's Facebook page, or call at 800-579-3197 to learn more about Trident's wide range of program offerings.