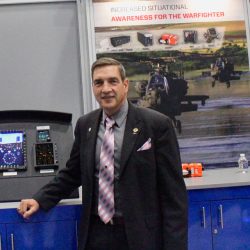 I have a birthday tradition - one that may cause some of my family to chuckle - where I run at least one minute for every year I have lived. Since I have just reached 60 this year's run was more of a challenge, but I was more worried about the number than how I felt after the run. I do a good job taking care of myself by exercising and eating healthy, but do I want to be remembered as the weird dad or crazy grandpa who was always working out?
Thinking about this tradition was a reminder that my birthday isn't just a time for me to celebrate with friends and family, it's also a time of reflection. I think about how happy I am to be around for another year. And I also reflect on how I will be remembered.
I started to understand my legacy after going through a program a few years ago. I always knew I wanted to positively impact those around me - and those who would come after me. And as all good leaders know, one must lead by example. To start setting this example, I knew I needed to make some changes in the way I was living my home life.
If you've ever thought about how to leave your legacy and were at a loss for words, you're not alone. I've been there before.Philip F. Johndrow
To start, I defined my purpose, which was to live a life dedicated to serving and helping others. I feel that I am at a time in my life where I have spent my whole life developing as a leader, and now I want to spend the rest of my life helping to develop others into leaders - or whatever it is that fulfills them.
Next was dedication to my family. This past weekend was Easter, and my wife and I bought a waterslide for our grandkids. At first some of the kids were afraid to go down the slide because they were afraid of getting splashed, but when they saw how much fun everyone was having, they joined in.
After that, the Easter Egg Hunt started. I enjoyed watching my older grandkids scramble to find the golden egg containing a $10 bill. The younger kids were having a blast picking up all of the other eggs, all of which contained a $1 bill. Their enjoyment came from finding any egg - it could be candy or money or just an egg. To them, the entire journey was fun, and it turns out that the younger kids collected more money than the older kids who were laser-focused on finding that golden egg.
But I felt like the biggest winner of them all. I got to spend a day with my family while they played, splashed, and searched for eggs on a beautiful Easter Sunday. I was dedicating time to my family.
The younger kids definitely had something figured out. Sometimes we become so fixated on the big prize that we miss all of the small opportunities along the way. Too often in life we don't want to take our eyes off the prize, so we forget there is more than one prize to be won. Don't be so focused on the destination that you forget about the journey.
As much as we would all like to be the one who gets the golden egg, maybe our legacy is to help those around us find their eggs along the way, or to get the courage to make the big splash down the water slide? Consider your purpose, the impact that you want to make, and what you need to do to get to that point.
I want my legacy to be all I have done to help and serve others, while finding time to dedicate to my family. As a leader there are few things more fulfilling than developing others and passing that spirit of service down the line.