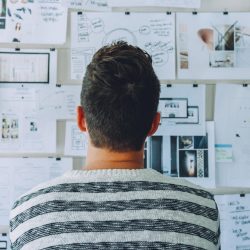 APA is an abbreviation of American Psychological Association and serves as a basic guideline for much of the writing done by Trident students. This format of writing is commonly used in the social sciences, education, and psychology fields. Students can expect to use this format at the bachelor's, master's and doctoral levels. It may seem intimidating at first, but there are resources available to help simplify and better understand the process.
When writing papers in APA style, students should focus on four specific areas: title page, abstract, main body, and references. Some of the basics of formatting includes one-inch margins, 12-point font, text that is double-spaced, and Times New Roman as the font of choice. The selection of headlines, presentation of statistics and numbers, and the usage of abbreviations and punctuation should also be considered.
To give a snapshot of what should be done in APA format, here are some key things to take note of:
A cover page should include the student's name, university, graduating class, and date of assignment.
A running head at the headline of each page, along with page numbers are required.
A page for references at the end is required if any in-text citations were made within the paper.
Numbers under up to 10 should be written out (i.e. seven, eight, nine), while numbers 10 and above should be numerically written out (i.e. 10, 11, 12).
It is best to paraphrase and limit quotations unless absolutely necessary. Whenever content is drawn from elsewhere, in-text citation is required.
For scholarly research, an abstract that serves as a summary of the study may be necessary.
Students may find complete guidelines on APA format both on the web and on the Trident Learning Community (MyTLC) portal. Purdue Owl is a popular online resource that guides students through each step.
Trident's Writing Style Guide is also an excellent resource which clearly explains APA formatting requirements. This guide is located under the "Resources" tab of the MyTLC portal. After going through the guide, it is helpful to review of examples of APA style to best understand what some of these techniques look like within the context of a completed paper.
Dr. Joseph Chan is an Admissions Advisor III and Part-time Faculty Member at Trident who works with both civilian and military students at the undergraduate and graduate levels. He is a 2019 graduate of Trident's Ph.D. in Educational Leadership program. In addition, he holds a B.A. in Public Relations from California Baptist University and a M.Ed. in Postsecondary Administration and Student Affairs from University of Southern California.