Dr. Angela Willson
Part-time Faculty - College of Health and Human Services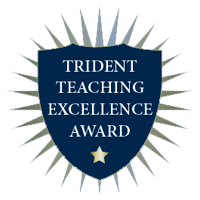 As a former online student, I am aware of the complexity of being a full-time worker and student. I have been teaching online for many years and know many of the issues that students may have meeting requirements of work, families, and school work. I am here to assist our students and make the "job" of learning one that is personally fulfilling so the student can be proud of their work and of their degree.
Trident Teaching Excellence Award
Overall, 49 faculty were nominated by 61 students for the Fall 2018 quarter.
I am nominating Dr. Angela Willson because of the in-depth concern that she explained to me in regard to written skills. The explanation that she gave has become my substratum of the way I approach my assignments. My mindset of writing has now been upgraded because of Dr. Willson taking time out to provide more than just a reason but a personal mien/feeling to writing.
Bernard Holly, BHD404, November 2018
Programs
Bachelor of Science in Health Sciences
Bachelor of Science in Human Resource Management
Master of Arts in Education
Master of Science in Health Sciences
Areas of Expertise
Teaching both students and faculty online educational expectations and practices.
Professional Experience
Registered Radiologic Technologist with advanced studies in Mammography and Quality Management