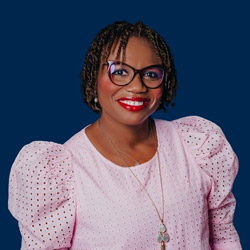 August 26, 2022 – Chandler, AZ – Patricia Watson has joined Trident University International (Trident) as Regional Manager of Strategic Military Community Relations. She will be responsible for military outreach activities in Missouri, North Dakota, South Dakota, Nebraska, Illinois, Indiana, Iowa, Minnesota, and Michigan.
In this role she will assist current and prospective students as they work towards their respective educational goals. Additionally, she will work closely with representatives on military bases, other military stakeholders, and community members in helping to support Trident's mission of providing a quality and affordable education. Beyond her work in the field, she will collaborate with key staff members across the University in helping to ensure a positive experience for all students.
Watson has more than 20 years of experience in developing key relationships.  Her diverse career has helped to shape her into a dynamic leader with a passion for helping people to discover the power they have within themselves to solve problems and make a difference in the world around them.
Watson is a member of several professional organizations, including the National Notary Association, American Business Women's Association, and the Veterans of Foreign Wars Auxiliary.
Watson holds a Master of Science in Communications/Promotions and a Bachelor of Arts in Corporate Communications, both from Lindenwood University.
About Trident University International
Founded in 1998, Trident University International is a member of the American InterContinental University System, which is accredited by the Higher Learning Commission (hlcommission.org). Trident uses the EdActive™ learning approach, which employs case-based learning in an online setting to teach real-world relevant critical thinking skills designed to enhance the lives and education of students. Trident offers quality associate, bachelors, masters, and doctoral degree programs and certificates, led by a qualified faculty team, over 80% of whom have doctoral degrees. Trident has over 32,000 alumni, of which more than 27,000 have a military affiliation and has received acknowledgements from Washington Monthly, Military Times, and Military Advanced Education & Transition for their dedication to student success. Visit www.trident.edu, Trident's Facebook page, or call at to learn more about Trident's wide range of educational options.