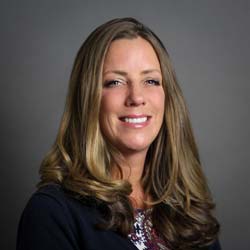 August 30, 2018 – Cypress, CA – Trident University International (Trident) has named Rebecca Jones Senior Director of the University's Center for Student Success (CSS).
As Senior Director, Jones will be instrumental in directing the University's CSS. The Center supports students in achieving their educational goals by:
Ensuring a smooth transition for new students into the university community
Providing support with course and system navigation
Assisting with selection and sequencing of courses
Explaining program requirements and changes
Answering general questions about the newly-redesigned Trident Learning Community (TLC), programs, and courses
Providing supplemental support to all students with academic difficulty
Partnering with faculty and students with disabilities or other extenuating circumstances and devise plans to help meet their academic goals
With a proven track record in leading academic advising teams across multiple locations and implementing proven student success strategies that consistently result in outstanding outcomes, Rebecca is the ideal leader for the Center for Student Success.
Eric Rajasalu, Chief Operating Officer of Trident
During her time at Trident, Rebecca led the re-engineering of new student onboarding, including co-developing and managing the new student orientation program, and has served as a co-presenter of the University's successful "First Day of Class" webinar series. She has also served as a faculty member and student success advisor and manager.
Prior to joining Trident, Jones served as Vice President of Competency-based Programs for Argosy University, and had launched her own consulting firm. She previously held other leadership roles, specializing in advising and student success.
Jones holds a Masters of Science in Management and Leadership from Western Governors University and a Bachelors of Arts in Liberal Arts from Carlow University in Pittsburgh.
About Trident University 
Founded in 1998, Trident University International (Trident) is a leading online postsecondary university serving adult learners. Trident uses the EdActive™ learning approach, which employs case-based learning in an online setting to teach real-world relevant critical thinking skills to enhance the lives and careers of students. Trident offers high-quality bachelors, masters, and doctoral degree programs and certificates, led by a qualified faculty team, over 80% of whom have doctoral degrees. Trident is regionally accredited by the WASC Senior College and University Commission (WSCUC) and has over 32,000 alumni, including more than 27,000 with a military affiliation. The University has received multiple acknowledgements from Military Times, Victory Media's Military Friendly Schools, and Military Advanced Education & Transition for their dedication to military-affiliated students. Visit www.trident.edu, Trident's Facebook page, or call at to learn more about Trident's wide range of educational options.