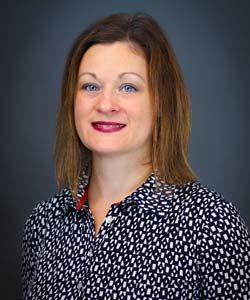 January 12, 2021 – Chandler, AZ – Trident University International (Trident) is proud to announce that Dr. Heidi Fernandez has been named Dean of University College. She previously held this role on an interim basis.
Dr. Fernandez joined Trident in 2013, with her previous positions including Math Department Chair, Math Faculty Lead, and Associate Dean of University College. She has served on multiple Doctoral Studies Project committees for students in the Doctor of Education (Ed.D.) program.
Additionally, Dr. Fernandez also has K-12 teaching experience and is a National Board Certified Teacher (NBCT).
Since I earned my master's degree online, I am aware of the many challenges that can be faced by Trident's student community when returning to school. It is my objective to deliver a quality education so students have access to the tools they need to work towards their academic goals.
Dr. Fernandez
Dr. Fernandez is a published author who has presented at multiple conferences, including the Online Teaching Conference in San Diego and the American Educational Research Association Annual Meeting, while her research has appeared in the journal Educational Technology & Society.
Her research interests include online teaching and learning, math, and online curriculum and course development.
Dr. Fernandez earned an Ed.D. in Curriculum and Instruction, with a specialization in Educational Technology from University of Florida, Gainesville. She holds a Master of Science in Math Education from Walden University and a Bachelor of Arts in Sociology and Education from University of Florida, Gainesville.
About Trident University International
Founded in 1998, Trident University International is a member of the American InterContinental University System, which is accredited by the Higher Learning Commission (hlcommission.org). Trident uses the EdActive™ learning approach, which employs case-based learning in an online setting to teach real-world relevant critical thinking skills designed to enhance the lives and education of students. Trident offers quality associate, bachelors, masters, and doctoral degree programs and certificates, led by a qualified faculty team, over 80% of whom have doctoral degrees. Trident has over 32,000 alumni, of which more than 27,000 have a military affiliation and has received acknowledgements from Washington Monthly, Military Times, and Military Advanced Education & Transition for their dedication to student success. Visit www.trident.edu, Trident's Facebook page, or call at to learn more about Trident's wide range of educational options.