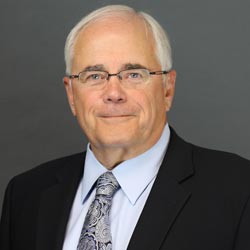 January 25, 2018 – Cypress, CA – Trident University International (Trident) is excited to announce the appointment of Dr. Mark Pieffer to Associate Dean of the Glenn R. Jones College of Business (GRJ-COB). He assumed this role on January 1st and will report to Dr. Debra Louis, Dean, GRJ-COB.
Dr. Pieffer joined Trident in 2015 and assumed the role of Department Chair, Communications and Humanities, in University College the following year.
He has made a major impact during his time at Trident. In 2016 he earned a Trident Teaching Excellence Award, and this year he was acknowledged with an Award for Academic Excellence, presented by Trident's Board of Trustees. He also serves as host of the webinar series, "First Day of Class."
Dr. Pieffer has proven himself to be an advocate for his students. Through his extensive leadership and teaching experience, he will be able to continue providing opportunities for our students to achieve their educational goals.
Dr. Debra Louis
An advocate of student-centric education, Dr. Pieffer was the Provost at Jones International University prior to joining Trident. Additionally, he is a 23-year veteran of the United States Army, where he served as an Airborne Ranger Infantry Officer and retired as a Lieutenant Colonel.
Trident has given me the opportunity to engage with students in meaningful ways. Instruction is centered around their needs and their goals – allowing us to work together to help them achieve their successes. I am honored to be part of the Trident family.
Dr. Mark Pieffer
Dr. Pieffer earned a Doctor of Management degree from Colorado Technical University, M.A. in Psychology from University of Richmond, and a B.A. in Psychology from Central State University of Ohio.
Dr. Pieffer is an active researcher who has authored numerous papers in the field of management, focusing on topics ranging from employee satisfaction and turnover, organizational effectiveness, leadership, and improving faculty effectiveness in an e-learning environment. He presented research at Clute Institute conferences in Germany in 2014, and Sweden in 2017.
About Trident University 
Founded in 1998, Trident University International (Trident) is a leading online postsecondary university serving adult learners. Trident uses the EdActive learning approach, which employs case-based learning in an online setting to teach real-world relevant critical thinking skills to enhance the lives and careers of students. Trident offers high-quality bachelors, masters, and doctoral degree programs and certificates, led by a qualified faculty team, over 80% of whom have doctoral degrees. Trident is regionally accredited by the WASC Senior College and University Commission (WSCUC) and has over 32,000 alumni, including more than 27,000 with a military affiliation. The University has received multiple acknowledgements from Military Times, Victory Media's Military Friendly Schools, and Military Advanced Education & Transition for their dedication to military-affiliated students. Visit www.trident.edu, Trident's Facebook page, or call at to learn more about Trident's wide range of educational options.