September 28, 2020 – Chandler, AZ – Trident at American InterContinental University (Trident) is proud to announce that Ph.D. in Educational Leadership graduate Dr. Jennifer Denlinger has been named the 2020 National Chef Educator of the Year by the American Culinary Federation.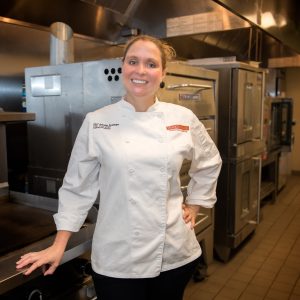 Dr. Denlinger currently serves as Culinary Management Department Chair at Valencia College's Poinciana Campus in Kissimmee, Florida.
Chef Educator of the Year honorees are selected on a regional basis via a committee maintained by the American Culinary Federation (ACF). Applicants are required to submit an application that includes letters of recommendation, professional development activities in the field of education, a lesson plan, and a record of creating a positive student experience.
In April, Dr. Denlinger was named the 2020 Southeast Region American Culinary Federation Chef Educator of the Year. This regional award put her in the running for the national title.
Competition for the national title occurred in July, where Dr. Denlinger competed against two other regional winners. Her final demonstration was held on a web conference, and it consisted of a cooking lesson via PowerPoint, a 45-minute live cooking session, and a Q&A session with an audience made up of three judges and three culinary arts students.
"This was an intense, yet satisfying process," states Dr. Denlinger. "Taking part in this competition helped me to align my teaching practices with measurable learning outcomes, and furthermore, it ensured that my delivery methods were concise and particular to the objectives of the lesson. It also helped me refine what I do on a daily basis, so I am able to produce a meaningful learning experience for my students!"
According to Dr. Denlinger, her time at Trident has played a part in her professional success.
"While a student at Trident, I was exposed to a variety of methodologies and concepts which I have been able to translate and adapt to non-traditional educational environments," states Dr. Denlinger. "Furthermore, the faculty was great. I love Dr. Pamela Wilson – she kept me focused and pushed me hard. And Dr. Anna Lint was instrumental in helping to refine the craft and precision of my writing."
Dr. Denlinger – known as Chef Jenn by many of her students and colleagues – is active in culinary circles, frequently pairing her love of cooking with a passion for teaching. She is the VP of ACF's Central Florida Chapter, which was awarded the 2020 Southeast Chapter Achievement Award. In 2019 she was recognized as the Central Florida Chapter's Chef of the Year.
The American Culinary Federation (ACF) was established in 1929 in New York City and is the largest professional chefs' organization in North America. Now based in St. Augustine, FL, it comprises more than 17,500 members in over 150 chapters across the United States and is known as the authority on cooking in America. Its mission is to make a positive difference through education, apprenticeship and certification, while creating a fraternal bond of respect and integrity among culinarians.
Dr. Denlinger is also a member of the Central Florida Chapter of the Florida Restaurant and Lodging Association, Les Chaîne des Rôtisseurs, and Fresh from Florida.
Dr. Denlinger is a 2018 graduate of Trident's Ph.D. in Educational Leadership program. She earned a Master of Arts in Education from American InterContinental University, and a Bachelor's in Hospitality Management from the University of Central Florida.
About Trident University International
Founded in 1998, Trident University International is a member of the American InterContinental University System, which is accredited by the Higher Learning Commission (hlcommission.org). Trident uses the EdActive™ learning approach, which employs case-based learning in an online setting to teach real-world relevant critical thinking skills designed to enhance the lives and education of students. Trident offers quality associate, bachelors, masters, and doctoral degree programs and certificates, led by a qualified faculty team, over 80% of whom have doctoral degrees. Trident has over 32,000 alumni, of which more than 27,000 have a military affiliation and has received acknowledgements from Washington Monthly, Military Times, and Military Advanced Education & Transition for their dedication to student success. Visit www.trident.edu, Trident's Facebook page, or call at to learn more about Trident's wide range of educational options.