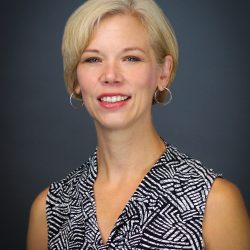 Department Chair in Health Administration - College of Health and Human Services
As a public health researcher and project manager, Dr. Anglin has been drawn to the needs of those without a voice of their own; she values the opportunity to use her knowledge to help others. This same belief in helping others is represented in her teaching. She believes in helping students find their voice by enabling them to broaden their knowledge, gain insight into different aspects and dimensions of the field of public health and health administration, realize their potential and hopefully in return, they will then use their new found knowledge and insights to also help others.
Dr. Anglin has over 17 years experience working in the fields of public health, health policy, and program management. Her experience extends from academic research, government contract/project management and evaluation, and teaching. She spent several years in both research and project management within the field of substance abuse, including initiatives focused on maternal health, quality improvement, evidenced-based treatment, community/research/policy collaboration, and cultural competence in treatment. She currently serves as assistant editor for a peer-reviewed journal and also as a volunteer with the Medical Reserve Corps, providing project management, evaluation, and cultural competence expertise. Her real world experience translates into knowledge that is utilized in the classroom for her students.
I appreciate being part of a wonderful team of faculty in the Health Administration Program at Trident University. Our BSHA and MSHA programs are cutting edge and the nature of our online learning system allows us to keep our courses continually updated with the latest information and research for our students to optimize their learning experience. Dr. Gayl M. Anglin
Programs
Master of Science in Homeland Security
Master of Science in Health Administration
Master of Science in Health Sciences
Publications
Contributing author (2007) Identifying Promising FASD Practices: Review and Assessment Report. Rockville, MD. Substance Abuse and Mental Health Services Administration, Department of Health and Human Services.
Contributing Author/Developer (2007) SAMHSA Fetal Alcohol Spectrum Disorders Center for Excellence, American Indian/Alaska Native/Native Hawaiian Resource Kit. DHHS Pub. No. (SMA) 07-4264. Rockville, MD: Center for Substance Abuse Prevention, Substance Ab.
Mannix, D., Swamy, N., Yates, B., Stanton, A., Anglin, G., and Gelman, E. (2007) Differences in Public and Private OTPs in Terms of Staffing, Patients, Services Offered, and Costs: Findings from the SAMHSA/CSAT Opioid Treatment Accreditation Evaluation (Poster) Rockville, MD. Substance Abuse and Mental Health Services Administration.
Contributing author. (2003) Building Practice Improvement Collaboratives: Eleven Case Studies. Rockville, MD: Substance Abuse and Mental Health Services Administration.
Hegamin, A. and Anglin, G.M. (2002) Assessing the Need for Dual-Diagnosis Treatment Services for Juvenile Justice- and Foster Care- Involved California Youth. Woodland Hills, CA: The California Endowment.
Longshore D, Anglin G, Guzman L, Carmichael W, Hegamin A, Rowe D, Grills C. (2002) African-centered motivational intervention - counselor manual. Los Angeles: UCLA Integrated Substance Abuse Programs.
Hegamin A, Anglin G, Casanova M. Deconstructing the concept of "special populations." Journal of Drug Issues 32: 825-836, 2002.
Hegamin A, Anglin G, Farabee D. Gender differences in the perception of drug user treatment: Assessing drug user treatment for youthful offenders. Substance Use and Misuse 36: 2159-2170, 2001.
Hegamin, A.P., Anglin, G. and Farabee, D. (2001) Fourth Annual Report on the CYA- RSAT Programs: Program Implementation and Development of the CYA Social Adjustment Scale (CYA-SAS). Los Angeles, CA: UCLA Drug Abuse Research Center.
Presentations
National Native American Law Enforcement Association Annual Meeting. "FASD in Adolescents and Juvenile Justice Settings." Memphis, Tennessee, October 2007
Substance Abuse and Mental Health Services Administration, Fetal Alcohol Spectrum Disorders Center for Excellence Steering Committee Meeting. "Overview of the FASD Center's American Indian/Alaska Native Initiative." San Antonio, Texas, June 2005.
Kettil Bruun Society for Social and Epidemiological Research on Alcohol - Alcohol, Drugs and Violence: Youth Risk Taking, Behaviors and Prevention Conference. "Pre-Symposium Workshop – Overview on the Center for Excellence on Fetal Alcohol Spectrum Disorders". Riverside, CA, May 2005
Addictions 2002 Conference, Poster presentation: "Implementing Scientifically Validated Treatment Protocols in Community Based Programs: The Los Angeles Practice Improvement Collaborative." Eindhoven, The Netherlands, September 2002
Substance Abuse Research Consortium (SARC). "'Science to Services' Initiatives - The Los Angeles Practice Improvement Collaborative." Sacramento, California, July 2002
Substance Abuse Information Exchange: Research and Practice Initiatives in South Central Los Angeles Community Training. "Los Angeles Practice Improvement Collaborative Project." Los Angeles, California, April 2002.
American Society of International Law Annual Conference. "Women's Cultural Rights in Childbirth." Washington, D.C., March 1999
Areas of Expertise
Dr. Anglin's areas of expertise include:
Public Health
Project Management
Ethics
Cultural Competence
Health Policy
Emergency and Disaster Management
Substance Abuse
Maternal and Child Health
Education History
Ph.D. in Political Science - University of Southern California (2002)
M.A. in Political Science - University of Southern California (1996)
B.S. in Political Science - Oregon State University (1991)
Associations
American Public Health Association
American College of Healthcare Executives