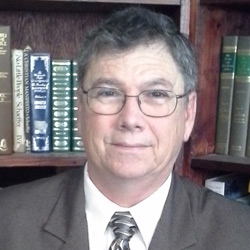 Full-time Faculty - Glenn R. Jones College of Business
Dr. Cromer served in the United States Navy for 31-years as a surface force Command Master Chief and as Navy Recruiting Command Force Master Chief. Following his Navy career, he served as a senior director and regional emergency services manager in the American Red Cross. A recipient of The President's Volunteer Service Award for his commitment to strengthen our nation and communities through volunteer service, he currently resides in Florida and is active in humanitarian activities. Dr. Cromer is an adjunct professor and was the first recipient of the Trident Teaching Excellence Award.
Dr. Cromer served in a number of small combatant vessels as an Electrician's Mate and Command Master Chief. In between those tours, he was the senior enlisted leader of the transition and training crew in the sale of a US warship to Bahrain. Later, he was the Command Master Chief of Navy Recruiting District, Montgomery, AL, and Force Master Chief of Navy Recruiting Command. His final tour was as Command Master Chief of the Navy Recruiting Hurricane Katrina Recovery Unit. Following his military career, Dr. Cromer served in the American Red Cross Emergency Services program as a senior director and regional emergency services program manager. He was the operations manager for a number of hurricane and other disaster relief operations, and assisted in Red Cross support for military services in the Florida panhandle.
Testimonial
I have been a student at Trident University for many years now as I first received my BSBA then on to my MBA and now currently a Ph.D. student. I have had the privilege of being taught by some of the finest professors within Trident University over many years but I must say Dr. Cromer has truly inspired me in so many scholarly ways. The most important difference is Dr. Cromer conducted more live sessions during this course than any other course I have taken to date. These live sessions change the dynamic of online learning and add a personal interaction between student and professor that is critically valuable. This live session interaction he conducted during each module pushes me to learn and helps me understand complex topics that sometimes can be misinterpreted without professional scholarly guidance. Putting together and taking the time to conduct live sessions I realize is very time-consuming for the professor but I felt during this course I wasn't only learning online I could visualize myself in a virtual classroom interacting with my fellow classmates as well as my professor. Dr. Cromer deserves recognition for this and he has more than earned this Trident teaching excellence award hands-down! ­ Michael, ORG602, Winter 2016
Programs
Ph.D. in Business Administration
Publications
Dissertation: A Conceptual Model Of Volunteer Engagement: The Influence Of Organizational Assimilation And Psychological Capital Constructs As Reflections Of Overall Volunteer Engagement (2009).
Cox, A.M., Guzman, I., Cromer, K.W., and Bagui, S. (2017). Virtual worlds, virtual reality, and augmented reality: Differences in purchase intentions based on types, users, and sex. Journal of Virtual Worlds Research, (10)1, 21.
Areas of Expertise
Dr. Cromer's areas of expertise include:
Organizational Studies
Business Administration and Strategy
Organizational Change
Psychological Capital
Organizational Assimilation
Early Childhood Education
Emergency and Disaster Management
Military Status
Status: Veteran
Branch: US Navy
Rank: E-9 Command Master Chief
Years: 31
Accolades: Thirty-four decorations, including the Meritorious Service Medal (2 Awards) and designation as an Enlisted Surface Warfare Specialist.
Education History
Ph.D. in Business Administration - Trident University International (2009)
M.Ed. in Instructional Technology - Troy University (2005)
M.A.E.D. in Early Childhood Education - Trident University International (2013)
B.S. in Liberal Studies - Excelsior College (2002)
Certified Disaster Services Program Manager - American Red Cross (2012)
U.S Navy Senior Enlisted Academy (1997)
Honors & Awards
The President's Volunteer Service Award (2008)