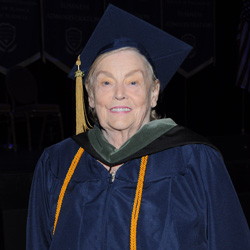 Trident University International Graduate
Class of 2017 / 2015
Roberta was 88 years old when she received her Masters degree in Health Administration at Trident University. She was inspired to do so, when Tom Kablach, her husband of 68 years, developed dementia. She wanted to educate herself on the evolution occurring in the medical care of senior citizens. Roberta felt she could learn things that would help her take care of her husband. She chose a concentration in Health Informatics, she says, because it would keep her brain sharp.
Professors at Trident believe in us, and encourage us, whether we are students studying in a war zone or an 80-some-year-old woman writing papers from her husband's hospital room. We appreciate their support and guidance for our achievements. Roberta Kablach
Roberta has a strong sense of commitment to everything she does in life, marriage, education. Even after Tom died early in 2015 before Roberta had finished her classes, she continued on to earn her degree and graduate Cum Laude. But she didn't stop there. In 2017, Roberta completed her second Masters degree in Education at Trident.
She would like to express special thanks to Dr. Mickey Shachar for contributing to the realization of her dream to earn her degree.
Education History
MA in Education: Adult Education & Training - Trident University International (2017)
MS in Health Administration - Trident University International (2015)