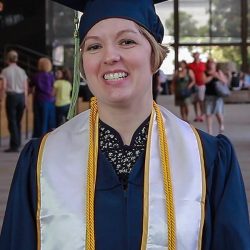 Trident University International Graduate
Class of 2018 / 2016
Holly is a veteran of the U.S. Navy and earned her Bachelors of Science in Health Sciences at Trident University. She graduated in 2016.
During her 14 years of military service as Chief Petty Officer in the Navy, Holly earned the Navy and Marine Corps commendation Medal, the Navy and Marine Corps Achievement Medal, and the distinguished Purple Heart medal. While on mission in Iraq in 2010, she was shot by a sniper. The bullet went in, but not through, her head. She was in a coma and experienced a long, slow recovery.
I show myself and all the other veterans who are in the hospital or they're out of the hospital, that even though I was injured, I couldn't read, I couldn't write, but there's still a way for us to actually go to college and succeed at it and move on. Holly Katke
Holly worked with the Mote Marine Laboratory in Florida as part of the Combat Wounded Veteran Challenge for coral restoration efforts in the Florida Keys in 2015 and returned in 2016 for an internship. She plans to work on a Master's Degree at Trident, and is interested in water quality.
Education History
MS in Health Sciences: Public Health - Trident University International (2018)
BS in Health Sciences: Environmental Sciences - Trident University International (2016)
Military Status
Status: Veteran
Branch: U.S. Navy