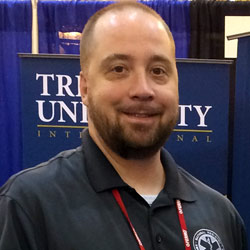 Trident University International Graduate
Class of 2015 / 2012
Jeremy is a veteran of the United States Army. He holds a Bachelor of Science in Healthcare Education and a Master of Arts in Educational Leadership from Trident University. He is currently enrolled in the Ed.D. in Educational Leadership program at Trident University.
His education at Trident led him to assume an executive leadership position at a national certification body. He learned and developed the skills needed to effectively lead a team.
Jeremy is appreciative of the prompt attention and responses he received from his professors.
Trident worked with me when I was deployed to Iraq and unable to use a computer for a short time. The extra work put forth by Trident made it easy to decide where to continue my education. Jeremy Miller
Military Status
Status: Veteran
Branch: U.S. Air Force
Education History
Master of Arts in Educational Leadership - Trident University International (2015)
Bachelor of Science in Health Education - Trident University International (2012)