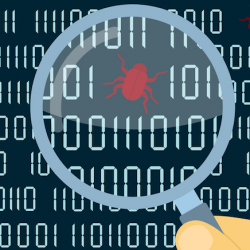 Note: this is the follow-up to a blog on cyber security and hacking that we posted last month.
Earlier this year, the United States government hired a team of hackers to exploit flaws in the Pentagon's Cyber Systems. A system penetration occurred not once, not twice, but over 130 times.
This was part of the Department of Defense's "Hack the Pentagon" event, which was labeled as the first ever "bug bounty" in the US federal government history. Over 1,400 hackers were contacted to take part in this exercise, invited to find cyber security weaknesses with five government public websites, including defense.gov, between April 18 and May 12. During that period, the hackers reported 1,189 vulnerabilities, with 138 of them determined to be "legitimate, unique and eligible for a bounty."
Appearing at the event alongside Defense Secretary Ash Carter was an 18-year old recent high school graduate named David Dworken. In his spare time Dworken seeks out bugs in systems and has participated in programs similar to the Pentagon event since he was in 10th grade. Naturally, Dworken plans to study Computer Science in college.
Cyber savvy young people like Dworken are entering universities that offer cyber security programs. The United States is dependent upon students like him to fill roles in this quickly growing field. These future professionals will improve our lives, and make our digital information more safe and secure.
Our first line of defense is to acknowledge the problem, and the next step is to test and verify problem exists. Finally, the last step is to develop countermeasure to eradicate cyber security problems until the next test. Then the process starts all over again!
As cyber technology evolves, we should continue to bring in the hackers, because hackers hack, and I'm confident the U.S. Pentagon is happy they have these American hackers hacking them! It ultimately makes for a stronger, safer country.
Dr. Pietro "Pete" Savo is a professor in Trident's College of Health and Human Services. He received a Doctor of Business Administration from Jones International University and is a veteran of the United States Navy.