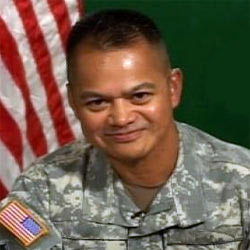 Trident University International Graduate
Hall of Distinguished Alumni | Class of 2008
Command Sergeant Major (Retired) Gilbert L. Canuela is currently serving as the Executive Mentor to the Chief NCO of Afghan National Police in Kabul, Afghanistan. He previously served as the Senior Mentor to the 203rd Corps CSM, Afghanistan National Army. Canuela served over thirty years in the US Army, still have so much to give and love serving for his country.
Canuela was selected for promotion to Command Sergeant Major with 16 years in the US Army. Canuela would serve as Command Sergeant Major of the 24th Infantry Division and Post CSM of Fort Riley, Kansas, the Army Test and Evaluation Command (ATEC) CSM, Washington D.C., the White Sands Missile Range Installation CSM in New Mexico, the 4th Fires Brigade, 4th Infantry Division in Operation Iraqi Freedom, 41st Fires Brigade CSM, Ft Hood, TX, the 1st Armored Division Artillery CSM, Baumholder, Germany and Kosovo Forces-KFOR 2A/2B, Camp Bondsteel, Kosovo and as the Battalion CSM with the 1st Battalion, 41st FA, 3d Infantry Division at Fort Stewart, Georgia and deployed in support of "Operation Desert Thunder-Kuwait" to deter aggression from Iraq.
Canuela completed One Station Unit Training (OSUT) as the BCT "Honor Graduate", Forward Observer- "Master Blaster" and 13F Class "Distinguished Graduate". He also graduated as the "Honor Graduate" in PNCOC, BNCOC, ANCOC, Drill Sergeant School, Air Assault School, Battle Staff Course, First Sergeant Course and the Fire Support Tactical Fire Direction Course.
Canuela has held a variety of leadership and staff positions to include ASCC Inspector General, First Sergeant, Corps and Brigade Operations and Intelligence NCO, III (US)Corps TAC NCOIC, Targeting NCO, III Corps Arty Liaison NCOIC, Schools NCO, Master Fitness Trainer, Fire Support Sergeant at company, battalion, brigade and corps level. As a Drill Sergeant, he led his platoon to win the Honor Platoon for eight consecutive cycles spanning over a 2 year period at Fort Sill, Oklahoma. He was selected as the "Drill Sergeant of the Cycle" (3 awards) and was selected as the Fort Sill "Drill Sergeant of the Year". Throughout his over 30-years career, Canuela has earned the titles of 1st Cavalry Division Artillery "Soldier of the Year", 25th Infantry Division Artillery "NCO of the Year", and the 2002 US Army and Federal Asian-Pacific American Council Meritorious Award. He is a member of the prestigious USAREUR Sergeant Morales Club and FORSCOM Sergeant Audie Murphy Club. He led his Fire Support Teams (FIST) to win the "FIST Best by Test" competition from 1981, 1982 and 1983. He has been recognized by the US Army Field Artillery and the Military Police for his outstanding service, was awarded the Honorable Order of Saint Barbara and the Ancient Order of Saint Barbara and an Honorary Member of the Military Police Regiment.
Education History
Bachelor of Science in Business Administration - Trident University International (2008)
Military Status
Status: U.S. Army Veteran
Branch: U.S. Army
Rank: Command Sergeant Major (Retired)
Honors & Awards
Legion of Merit
Bronze Star Medal
Meritorious Service Medal