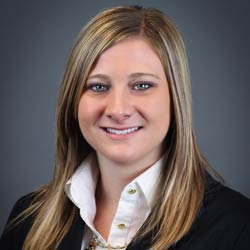 Trident Graduate | Class of 2016
After growing up as an Air Force dependent, Ashley gained a significant amount of insight and understanding of the military lifestyle. From making nine different moves around the country, she has seen more places than most people see in a lifetime. However, Ashley feels that this has helped make her a more well-rounded individual and expanded her knowledge of the world around her.
Ashley graduated with a Bachelors degree in Psychology from Shippensburg University. She then continued on to pursue her Masters degree in Early Childhood Education at Trident University and graduated Summa Cum Laude in July 2016. After teaching preschool, Ashley recognized the impact of education at such an early age and can see how it help sets you up to be successful in life. Due to this, she believes that education is a very imperative part of life and there is always room to grow and expand your knowledge. "You are never too old to go to school!"
Favorite Quote
You are never too old to go to school!
Education History
MA in Early Childhood Education - Trident University International (2016)
BS in Psychology - Shippensburg University