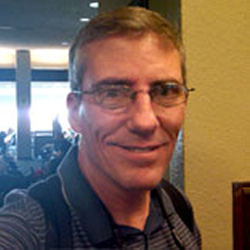 Trident University International Graduate
Hall of Distinguished Alumni | Class of 2011 / 2009
Martin W. Glenn is an Antiterrorism Analyst for Camber Corporation; he has been working in this position since July 2009. Martin W. Glenn was born in Lexington, Kentucky and raised in St Louis, Missouri. He entered the United States Army in June of 1979, attended Basic Training at Fort Leonard Wood, Missouri and Advanced Individual Training at Ft Huachuca, Arizona where he was awarded the MOS 96B, Intelligence Analyst.
Upon completion of Advanced Individual Training he was assigned to the 1st BDE (1st Infantry Division, Fort Riley, Kansas) as an Intelligence Analyst. While assigned to 1st Brigade, 1st Infantry Division, he deployed to Germany for a REFORGER exercise, completed a rotation to the National Training Center, and worked at 1st Battalion, 18th Infantry and conducted a deployment exercise with 1st Squadron, 4th Cavalry Regiment.
In 1982, Marty Glenn was assigned to the 101st Airborne Division, Fort Campbell KY as an Intelligence Analyst with 1st Battalion, 321st Field Artillery (ABN)(AASLT). While serving as a Battalion Intelligence Analyst, he participated in numerous division and Brigade level field exercises.
In 1984, he PCS'd to Germany and was assigned as an Intelligence Analyst with 2nd Battalion, 33rd Armor (3rd Armor Division) where he was involved with numerous exercises, REFORGERs, and the M1 Abrams transition. In 1986, CSM Glenn helped the Battalion transition to a COHORT Battalion and move to Fort Hood, Texas where it was re-designated as 3rd Battalion, 32nd Armor (1st Cavalry Division). While assigned to this Battalion, CSM Glenn helped develop a battalion counter-reconnaissance plan and deployed for a second time to the National Training Center.
In 1988, Marty Glenn PCS'd to Panama and was assigned as an Intelligence Analyst with 1st Battalion, 508th Infantry (ABN) (193rd Infantry Brigade, Panama) where he prepared for and conducted combat operations with the Battalion during Operation JUST CAUSE as part of Task Force Bayonet. After Operation JUST CAUSE, he deployed several times with individual infantry companies conducting parachute assaults into the David province in support of Operation PROMOTE LIBERTY.
In 1990, Marty Glenn was assigned to 3rd Battalion, 1st Special Forces Group (ABN) (Fort Lewis, Washington) where he served as an Intelligence Advisor and Military Intelligence Detachment 1SG. While there he deployed numerous times to the Joint Readiness Training Center. He also participated in a deployment along the Texas border in support of JTF-6 Counter-Narcotics mission. He also deployed to Thailand in support of Cobra Gold. While at Fort Lewis, Washington, in 1994, Marty Glenn was selected to serve as 1SG for A Co, 14th Military Intelligence Battalion, 201st Military Intelligence Brigade.
In 1995, Marty Glenn PCS'd back to Panama and became the 1SG for C Co., 470th Military Intelligence Brigade. His company was responsible for source operation and monitoring Panamanian demonstration along the Canal Zone for U.S. force protection. As the Brigade began to deactivate, Marty Glenn took the position of 1SG for D Co., 204th Military Intelligence Battalion (Low Intensity) at Fort Kobbe, Panama and conducted Counter-Narcotics Operations throughout Central and South America.
In 1998 and 1999, Marty Glenn served as the Senior Intelligence Observer/Controller for the Joint Readiness Training Center at Fort Polk, Louisiana. He was responsible for briefing and advising Light Infantry Brigade Combat Teams on NCO leadership issues as it affects the I-BOS as well as coaching, teaching, and mentoring the Military Intelligence units on NCO leadership issues and TTPs.
Marty Glenn graduated from the Sergeants Major Academy, Class 50 in 2000. He was then assigned as the CSM for 319th Military Intelligence Battalion (OPS)(ABN) at Fort Bragg, North Carolina, where he deployed numerous Soldiers to Bosnia as well as Afghanistan, Pakistan and Iraq in support of the Global War on Terrorism. In 2003, Marty Glenn was selected as the CSM, 525th Military Intelligence Brigade (ABN). The Brigade deployed 1,500 Soldiers in combat operations to Iraq in support of OIF 04-06 in November 2004 to November 2005.
After his deployment to Iraq, Marty Glenn was selected as the CSM for 500th Military Intelligence Brigade in direct support to United States Army Pacific. While in this position, the 1,500 Soldier Brigade supported the Global War on Terrorism in the Philippines, as well as numerous exercises throughout the Pacific Rim.
Marty Glenn retired from the Army in June 2009 after 30 years service.
Military Status
Status: U.S. Army Veteran
Branch: U.S. Army
Rank: Command Sergeant Major (Required)
Years: 1979-2009
Accolades: Master Parachutist Badge; Air Assault Badge
Military Education: Air Assault School; Airborne School; Jumpmaster School; Survival Evasion Resistance Escape Course (High Risk Level C); Security Managers Course; Intelligence in Counterterrorism Course; Special Operations Command Research Analysis and Threat Evaluation System Basic Course; Special operations Command Integrated Data Base Retrieval Course; Primary Leadership Development Course; Basic and Advanced Noncommissioned Officers Course; First Sergeant Course; United States Army Sergeants Major Academy.
Education History
MBA in Military Operations - Trident University International (2011)
BS in Business Administration - Trident University International (2009)
Honors & Awards
Legion of Merit
Bronze Star
Meritorious Service Medal (4OLC)
Army Commendation Medal (1OLC)
Army Achievement Medal (1OLC)
Good Conduct Medal (10th Award)
National Defense Service Medal
Armed Forces Expeditionary Medal (W/ Bronze Arrowhead)
Global War on Terrorism Service Medal
Armed Forces Service Medal
Non-Commissioned Officer Professional Development Ribbon (W/numeral 4)
Army Service Ribbon
Overseas Service Ribbon (W/numeral 3)