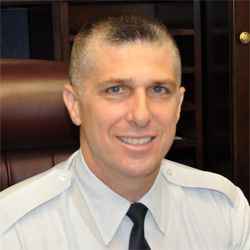 Trident University International Graduate
Hall of Distinguished Alumni | Class of 2010
Chief Master Sergeant Eric R. Jaren serves as the Command Chief, Air Force Materiel Command, Wright-Patterson AFB, Ohio. As command chief, he is the primary advisor to the commander and senior staff on all matters affecting education, development, training, readiness, effective utilization and quality-of-life of the command's 13,431 enlisted Airmen and their families. He coordinates with headquarters staff, commanders, and senior leaders on development and implementation of command policy affecting the Command's 11 centers and 31 wings & wing-equivalent directorates extending across 67 locations. He also serves as the command functional manager for 11 command chiefs, 25 group superintendents and 64 first sergeants.
Chief Jaren entered the Air Force in 1982 and has served at squadron, group, wing and numbered air force levels. Previous duties include superintendent assignments within the Maintenance Group, Operations Group and Mission Support Group, as well as additional duties in mobility operations, first sergeant, protocol and special projects. The chief is a veteran of numerous contingencies including Operations Desert Shield/Storm/Calm, Deep Freeze, Restore Hope, Support Hope, and multiple locations for Enduring Freedom and Iraqi Freedom, and Peaceful Summit.
Military Experience
Status: Active Duty
Branch: U.S. Air Force
Rank: Chief Master Sergeant
Years: 1982-Present
Education History
MBA - Trident University International (2010)
BS in Management and Psychology - Excelsior College
AS in Aircraft Maintenance Technology - Community College of the Air Force
Honors & Awards
Airman's Medal
Meritorious Service Medal with one silver leaf cluster
Air Force Commendation Medal with three oak leaf clusters
Air Force Achievement Medal with three oak leaf clusters
Air Force Good Conduct Medal with nine devices
National Defense Service Medal with one bronze star
Southwest Asia Service Medal with three bronze stars
Global War on Terrorism Expeditionary Medal
Global War on Terrorism Service Medal
Kuwait Liberation Medal Kingdom of Saudi Arabia
Kuwait Liberation Medal Government of Kuwait
1985 Senior Airman below-the-zone
1995 Noncommissioned officer of the year, 60th Air Mobility Wing
1996 Stripes for exceptional performer's promotion
1999 Senior noncommissioned officer of the year, Headquarters Fifteenth Air Force
2000 Senior noncommissioned officer of the year, Headquarters Fifteenth Air Force
2001 Senior noncommissioned officer of the year, Headquarters Fifteenth Air Force
Areas of Expertise
Airframe and powerplant license, Federal Aviation Administration
USAF Senior Noncommissioned Officer Academy, Gunter Annex, Al.
Air Force Smart Operations 21st Century, Tinker AFB, Ok.
Gettysburg Leadership Experience, Gettysburg, Pa.
Senior Enlisted Joint Professional Military Education, Joint Forces Staff College, Va.
Keystone Fellow, National Defense University, Wash, D.C.