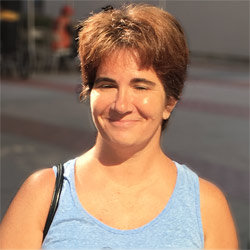 Trident University International Graduate
Class of 2011 / 2013
Sara is a retired veteran of the U.S. Navy and earned her Bachelors of Environmental Science/MPH at Trident University. She graduated Cum Laude in December 2013.
Her courses of study helped her to strengthen her skills in researching information from credible sources. This led to her learning more because she did all that research and reading. Sara is now using this information gathering and dissemination in her volunteer roles for the Girl Scouts.
She says that all of her instructors helped her to become more educated and willing to learn than she had been previously.
My father always told me that if you learn at least one thing new each day then that was a successful day. To that, I add that hard work pays off and when you do the work, you learn. I did the work, and I am better for it. My mind has been opened up and readily engaged through my experiences at Trident. Sara Mapuyan
Military Status
Status: Veteran
Branch: Navy
Education History
MS in Health Sciences: Public Health - Trident University International (2013)
BS in Health Sciences: Environmental Sciences - Trident University International (2011))