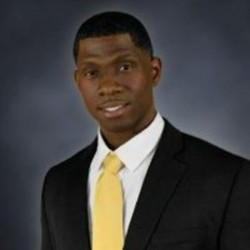 Dr. Rocky Roy C. Marsh Jr.
Trident University International Graduate
Class of 2017 / 2014 / 2013
Native of Mobile, Alabama, U.S. Army Air Traffic Controller, Afghanistan Veteran, Human Resources Manager, Toastmaster Director, and proud Trident alumnus.
Dr. Marsh began his education mostly to prepare himself for retirement from active duty. Throughout his military career, he always believed training and education were key pillars to strengthening human capital, He completed his Bachelor of Science in Human Resource Management degree and enjoyed the flexibility and convenience of Trident's student platform. He immediately re-enrolled and completed his Master of Arts in Education: Educational Leadership and Administration degree.
After his commencement in July of 2014, he turned his focus to his preparation for retirement from active duty. The process involved countless hours of seminars, and professional networking. As a member of Toastmasters International, he often spoke on the importance of career preparation and education. In interacting with other HR professionals, he also echoed the importance of educating himself, employees, students, and managers.
Almost exactly a year after graduation, Dr. Marsh returned to Trident to pursue a doctorate. He completed his Doctor of Education in Educational Leadership (Ed.D.) degree in 2017.
Education History
Ed.D. in Educational Leadership: PK-12 - Trident University (2017)
MA in Educational Leadership and Administration - Trident University (2014)
BS in Human Resource Management - Trident University (2013)