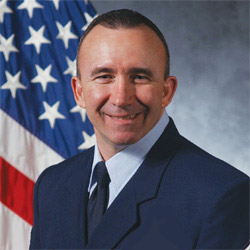 Trident University International Graduate
Hall of Distinguished Alumni | Class of 2011
Chief Master Sgt (Ret) Kenneth J. McQuiston is the former Command Senior Enlisted Leader, United States Transportation Command, Scott Air Force Base, Ill. He served as the principal advisor to the Combatant Commander for all matters concerning joint force integration, career development, utilization and sustainment of more than 150,000 enlisted personnel serving the headquarters and USTRANSCOM's air, land and sea components throughout the world.
Chief McQuiston entered the Air Force in April 1982. After completing basic military training and technical training, he served in various administrative and personnel management positions at squadron, wing and major command levels. His experience includes serving as the special assistant to a major command commander and senior enlisted advisor serving as the sole personnel manager for enlisted matters. He also served as a military personnel flight superintendent servicing more than 15,000 Airmen and their families, a major command senior officer management superintendent responsible for career management of more than 500 colonels and 40 active-duty, Air National Guard and Air Force Reserve general officers. Prior to his current assignment, he served as the command chief master sergeant at the wing, numbered air force, and deployed area of operations supporting Operation Enduring Freedom in Afghanistan.
Areas of Expertise
Chief McQuiston's areas of expertise include:
Noncommissioned Officer Preparatory Course, McGuire AFB, N.J.
Noncommissioned Officer Leadership School, McGuire AFB, N.J.
Noncommissioned Officer Academy, McGuire AFB, N.J. (Distinguished Graduate)
Associate's degree, personnel management, Community College of the Air Force
Senior Noncommissioned Officer Academy, Gunter AFB, Ala.
Joint Warfighter Capstone, Suffolk, Va.
USAF Senior Leadership course, Center for Creative Leadership, San Diego, Calif.
USAF Gettysburg Senior Leadership Development course, Gettysburg, Pa.
Keystone Senior Enlisted Leader Joint Studies Course, National Defense University, Ft McNair, Va.
Military Status
Status: U.S. Air Force Veteran
Branch: U.S Air Force
Rank: Chief Master Sergeant (Retired)
Years: 1982-2009
Education History
Master in Business Administration: Strategic Leadership - Trident University International (2011)
BS in Business Management - Wilmington University
AS in Administrative Management - Community College of the Air Force
Honors & Awards
Defense Superior Service Medal
Bronze Star Medal
Meritorious Service Medal with four oak leaf clusters
Air Force Commendation Medal with three oak leaf clusters
Air Force Achievement Medal
Joint Meritorious Unit Award with one oak leaf cluster
Air Force Outstanding Unit Award with Valor and silver oak leaf cluster
Afghanistan Campaign Medal with Bronze Star
Global War on Terror Expeditionary Medal
Global War on Terror Service Medal
Other Accomplishments

1985 Promotion to Senior Airman Below-the-Zone
1991 436th Airlift Wing Personnel Manager of the Year
1992 436th Airlift Wing Noncommissioned Officer of the Year
1992 21st Air Force Noncommissioned Officer of the Year
1992 STEP promotion to Technical Sergeant
1993 Distinguished Graduate, McGuire NCO Academy
Air Force Outstanding Unit Award with Valor and silver oak leaf cluster
1994 STEP promotion to Master Sergeant
2010 Certified Illinois Middle & High School Substitute Teacher
2010 Published Writer and Motivational Speaker