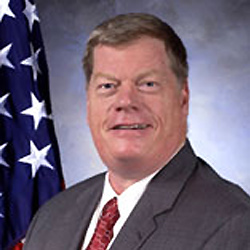 Trident University International Graduate
Hall of Distinguished Alumni - Class of 2003
Dr. Thomas Murphy retired as a Captain from the Navy in July 2004 after a 28-year military career. During his Naval service he completed tours both stateside and overseas, served on three ships and commanded Shore Intermediate Maintenance Activity San Francisco, CA and was Supervisor of Shipbuilding Conversion & Repair, Portsmouth VA.
Dr. Murphy assumed the position of Executive Director of the Mid-Atlantic Regional Maintenance Center in September 2004. As organizational structures evolved in 2009, MARMC was disestablished and the Norfolk Ship Support Activity was created.
Dr. Murphy now serves as Executive Director of the Norfolk Ship Support Activity. Currently Dr. Murphy is a Senior Engineer at the Naval Surface Warfare Centers/Naval Undersea Warfare Centers. At the national level, he provides leadership and program development for key aspects of workforce talent management across the NSWC/NUWC community. Dr. Murphy applies knowledge management research & demographic analysis to recommend knowledge stewardship strategies, policies, processes, tools and assessments necessary to help sustain an agile and responsive talent management system.
Dr. Murphy is married to the former Rosanne Mohn of Lewisburg, WV. They have three children, Thomas, Erin and Sean, and reside in Chesapeake, VA.
Military Status
Status: Veteran
Branch: U.S. Navy
Rank: Captain (Retired)
Years: 28
Education History
Ph.D. in Business Administration - Trident University International (2003)
MS in Mechanical Engineering - Naval Postgraduate School
BS in Chemical Engineering - Northwestern University
Engineers Degree in Mechanical Engineering - Naval Postgraduate School