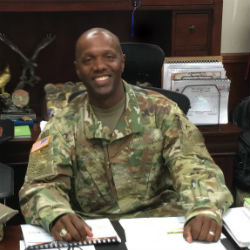 Trident University International Graduate
Class of 2012
Sean is currently serving in the U.S. Army as the 916th SB CSM. He earned his Master of Science in Information Technology at Trident University. He graduated Cum Laude in May 2012.
His education at Trident helped him to develop strong problem-solving skills. Sean learned how education positively impacts attitude of self and those we serve. He developed a passion to lead others in their quests to achieve higher education goals.
Sean would like to express great gratitude to two great mentors: Mr. Philip Johndrow and Dr. Khallid Shabazz. In addition, to the College of Information Systems faculty, Sean expresses eternal thanks for your patience, candor, and guidance..
What stood out most was there is no separation between Military, Civilian, young, or old regarding student relations. All students and faculty treat one another professionally and respectfully. Speaks volumes. Trident University International's divestment into its investments (students) is positively changing the landscape. Aspire, Believe, Achieve. Sean J. Rice
Military Status
Status: Active duty
Branch: Army
Rank: Command Sergeant Major
Education History
MS in Information Technology Management - Trident University International (2012)