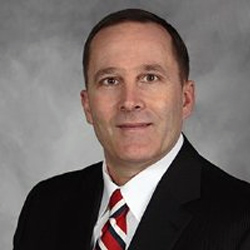 Trident University International Graduate
Hall of Distinguished Alumni | Class of 2006
Riling is a native of Riverview, Michigan. He began his Army career in 1983 as a Cavalry Scout, completing initial entry and advanced individual training at Fort Knox, KY. He now serves as the Commanding General's personal advisor on all matters relating to enlisted Soldiers with the emphasis on training, safety and quality of life. CSM Riling moved from FORSCOM, the Army's largest command, from First Army where he had served as its Command Sergeant Major since June 2007.
Riling's assignments include 2nd Squadron, 17th Cavalry, at Fort Campbell, KY.; 1st Squadron, 17th Cavalry, Fort Bragg, NC; 1st Battalion, 28th Infantry, Fort Jackson, SC; 1st Battalion, 509th Infantry, Joint Readiness Training Center, Fort Polk, LA; 3rd Battalion, 73rd Armor (Airborne), Fort Bragg; 4th Squadron, 7th Cavalry, Camp Garry Owen, Republic of Korea; Purdue University; 1st Squadron, 14th Cavalry, Fort Lewis, WA.; 1st Brigade Combat Team, 1st Infantry Division Fort Riley, KS.; 4th Infantry Division, Fort Hood, TX; and First Army, Atlanta, GA.
Military Status
Status: Active Duty
Branch: U.S. Army
Rank: Command Sergeant Major
Years: 1983-Present
Accolades:

Badges: Drill Sergeant Badge; Ranger Tab; Master Parachutist Bade; Pathfinder Badge; Air Assault Badge; Australian Parachutist Badge, the Order of St. George and St. Barbara
Military Education: Air Assault School; Airborne School; Jumpmaster School; Pathfinder School; Ranger School; Drill Sergeant School; Basic and Advanced Non-Commissioned Officer Courses; First Sergeant Course, and the U.S. Army Sergeant's Major Academy.
Education History
Bachelor of Science in Business Administration - Trident University International (2006)
Honors & Awards
Silver Star Medal
Legion of Merit Medal with 1st Oak Leaf Cluster
Bronze Star Medal, with 1st Oak Leaf Cluster
Meritorious Service Medal with Silver Oak Leaf Cluster
Army Commendation Medal with 3rd Oak leaf Cluster
Army Achievement Medal with 4th Oak Leaf Cluster
Good Conduct Medal with Silver Clasp with 4th Loop
National Global War on Terrorism Service Medal
Iraq Campaign Medal
Korean Defense Service Medal
Humanitarian Service Medal
NCO Professional Development Ribbon with Numeral 4
Army Service Ribbon, Overseas Service Ribbon