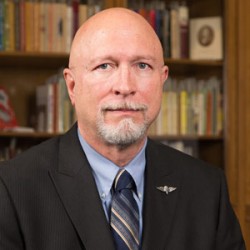 Trident University International Graduate
Hall of Distinguished Alumni | Class of 2011 / 2006
Dr. Mark Woodhull has over 40 years of experience in the government, corporate, and academia sectors. Dr. Woodhull is an innovative and creative educator who has been instrumental in the development of new eLearning systems for Schreiner University as well as an MBA program and Signature undergraduate business program based on Integrity and Ethics in business.
Dr. Woodhull has also had a long association with Trident University and has taught in the area of International Business, Strategic Marketing, Marketing Research, and Logistics and Global Supply-Chain Management. Dr. Woodhull's research interests are focused towards international marketing and management research in Mexico and South America, Business Anthropology and Relational Models Theory. Dr. Woodhull's research efforts have produced the first ever measurement instrument used to determine organizational plant-level cultural relationships between managers and workers.
Dr. Woodhull is an accomplished speaker on global issues and global cultural conflict. Among his many affiliations include, the American Marketing Association, the Academy of Management, the Academy of International Business, the North American Management Society, the Business Association of Latin American Studies, and the National Society of Hispanic MBAs.
Dr. Woodhull is a recipient of the Schreiner University Scholar Award and is listed in Who's Who Among American Teachers and Educators. Dr. Woodhull is an avid supporter of American veterans and is a member of the American Legion, the Air Commando Association, and the Thailand, Laos, Cambodia Brotherhood. Dr. Woodhull is a retired U.S. Air Force Chief Master Sergeant.
Military Status
Status: Air Force Veteran
Branch: U.S. Air Force
Rank: Chief Master Sergeant (Retired)
Education History
Ph.D. in Business Administration - Trident University International (2006)
MSITM in Business Intelligence - Trident University International (2001)
MSA in International Administration
BSBA in Marketing & Management
AAS in Aircrew Operations, FDC in International Business