Five Tips to Succeed in College When You're Active Duty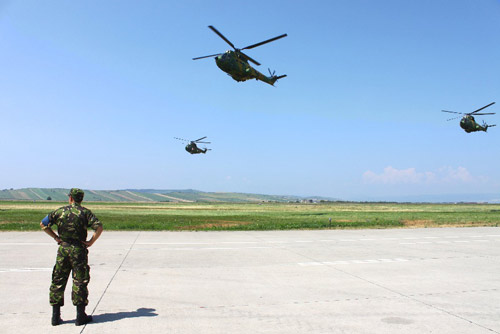 There are many great reasons to pursue a college degree while serving in the military. This article will provide some tips for your success.
Each of the five articles in this series is based on some of the questions most commonly asked by military individuals who are just beginning to consider heading to college. Part 3 will give you some ideas about how to make college work if you're active duty.
Not on active duty? If one of the following questions is more pressing for you, feel free to start with that article:
Part 1: How do I Figure Out which Military Education Benefits I've Earned?
Part 2: How do I Decide on a Degree that Works Best with my Military Experience?
Part 4: Can my Military Education Benefits Help my Spouse go to College? (coming soon)
Part 5: How do I find out if I earned College Credits during Basic Training? (coming soon)
5 Tips to Succeed in College When You're on Active Duty
Pursuing an education when you're on active duty can be tough, but the benefits most certainly outweigh the challenges. Below are a few tips to help you achieve your goals.
1. Choose schools and programs that offer flexibility.
Active-duty servicemembers have very busy schedules and many responsibilities. It is, therefore, important to select a school and learning method that will work with your schedule while being as flexible as possible. A few institutions have non-traditional course schedules that may work with a military schedule, but often students on active duty will either be taking evening courses or learning online.
Online college is a great choice for those serving on active duty because you can adjust your learning and coursework into your schedule. Studying can be done any time of day and anywhere in the world as long as you have access to the Internet and you meet the coursework requirements and deadlines during your session.
2. Choose a military-friendly college.
To ensure you maximize your benefits and have the support you need to achieve your goals, you should seek out a military-friendly college that has your program of study. By choosing a school that makes a genuine goal of assisting and supporting military students, you can be sure your institution will understand your unique challenges and offer the services you may need.
Another reason to seek out a military-friendly school is you will have the opportunity to connect and learn from many other students in situations similar to your own.
3. Get organized and use your time wisely.
If you've never considered yourself to be an organized person, now is the time to develop those skills. Your demanding schedule and lengthy to-do list will require you to have a set strategy and system for a smooth experience. It will also make your life much less stressful as you work to achieve your goals.
To learn how to make the most of your schedule, a time management book can be enlightening and make a big difference in the way you approach your studies. Search for resources on this topic through an online book seller so you can find one that meets your needs and garners good reviews.
It will most likely be necessary for you to schedule your week in advance, keeping in mind course requirements and expectations along with your work schedule. It is a good idea to devote a significant portion of your down-time to school work. You'll be surprised how much you can get done if you are organized and disciplined about your time management.
4. Get to know your school's military support staff.
If you've selected a military-friendly college, your school will have professional staff available to help you with military-related issues. For instance, Trident University has an entire department devoted to such objectives. The Trident Military Assistance Center (TMAC) was created for the purpose of supporting military students and making their educational experiences as positive as possible.
Get to know the people in charge of helping you. They can be an invaluable resource. If you're attending college online, reach out to the military support office as early in the enrollment process as possible.
5. Voice your issues.
According to the National Association of Student Personnel Administrators (NASPA), servicemembers are often accustomed to serving in situations where they are required to complete their duties without argument or complaint, regardless of the circumstances. Because of this, they can sometimes hesitate to question authority and advocate for themselves by voicing concerns and issues when they enroll in college.
It is important for servicemembers to be in regular communication with their instructors, advisors, and other support staff to ensure any problems encountered are addressed. If you have technical issues with online learning, scheduling problems, or even just need some extra time or help with an assignment, don't hold back - the best course of action is to speak up before you are overwhelmed.
Coming Up in Part Four
We hope part three of this article was helpful to those of you planning to pursue your education while serving on active duty. We commend you for taking on this goal and wish you the best of luck.
Here are the topics we'll be covering in Part Four:
• What educational benefits can help a spouse or dependent who wishes to go to college?
• If so, how does a military spouse or dependent obtain information regarding educational benefits?
About Trident University
Founded in 1998, Trident University International (Trident) is a leading online post-secondary university serving adult learners. Trident developed the Trident Learning Model, which employs case-based learning in an online setting to teach real-world relevant critical thinking skills to enhance student's lives and careers. Trident offers high-quality bachelors, masters, and doctoral degree programs, led by a qualified faculty team, over 80% of whom have doctoral degrees. Visit www.trident.edu, Trident's Facebook page, or call at 800-579-3197 to learn more about Trident's wide range of program offerings.