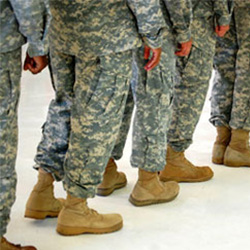 Things Military Students Should Consider When Choosing a Degree
Already know what degree you want? Feel free to review other articles in this series:
Part 4: Can my Military Education Benefits Help my Spouse go to College? (coming soon)
Part 5: How do I find out if BASIC Training Earned me College Credits? (coming soon)
If you know exactly what you want to study and pursue as your career, you can skip this article. If you don't yet know, it will be very useful for you to determine the amount and types of college credit you've earned through your experiences and skills gained in the military. Comparing and evaluating military experience to college credits may assist you in choosing a degree program or a non-degree program. The benefit in utilizing and applying these credits may assist you in accomplishing your degree sooner than expected.
When considering your options, you should remember that all schools and programs may not award you with the same amount of credit. Since the goal of this process is to reduce the length of time and cost that will be required to achieve your degree, it is important to select a military-friendly college with policies that allow you to make the most of your non-traditional learning and convert as much of your experience, skills, and knowledge as possible into actual college credits.
Whenever possible, Trident University offers credit to military service members and veterans based on military credits reflected in JST transcripts, DSST scores, CLEP scores, and DANTES. (More on these below.) To learn more about how this process works and what credits you may have earned, don't hesitate to call us at (855) 783-3822.
Converting Your Experience in the Military to College Credits
Below is some information that will help you maximize your experience in the military to start (or continue) your college career with as many credits as possible:
Convert your training in the military to college credits. You learned a lot during the time you served. Now it's time to convert your military education to college credits. As discussed in part one of this series, the American Council on Education (ACE) collaborates with the Department of Defense (DoD) to recommend college credits for individuals who served in the military. When it's time to apply for college, have your military branch send the school your Joint Services Transcript (JST). More than 2,300 schools will recognize the JST as your official college transcript.
Earn credits or waive requirements by taking tests. Did you know you can earn college credit from the knowledge you possess in various subjects that you may have never formally studied? You may be able to turn your experience, training, skills, and knowledge into credits by taking one of these tests:

College-Level Examination Program (CLEP) exams can earn you up to 12 college credits. More than 2,000 schools currently award credit to students based on CLEP.
Defense Activity for Non-Traditional Education Support (DANTES) sponsors numerous testing options that help veterans and servicemembers to jump start their education.
DSST These examinations were previously focused on military personnel until DSST was acquired by Prometric. As of 2006, these tests are now an option for any students who attend (or plan to attend) one of the more than 1,900 institutions that will grant credit for the exams.
Comparing Programs
This part of the process should occur simultaneously to the previously mentioned transcript acquisition and testing. It is important to begin the application process to your chosen school as early as possible to avoid wasting time and money by taking required classes for which you may have already earned credit.
If you have identified a military-friendly school that piques your interest, regardless of whether you've selected your degree program, you should apply and send transcripts immediately.
Once your records arrive at the college, you can begin the evaluation process with an advisor who can guide you in your goal to maximize credits. This individual can recommend degree programs based on your credit and steer you toward testing opportunities that could further reduce the amount of time it will take you to graduate.
From there, you can begin comparing programs. You may want to start with the programs for which you would receive the most credit. You might also consider the degree's earning potential, your level of interest, and whether a degree in that field suits your personality and talents.
While credit isn't everything when selecting a degree, it does play a role in decision-making. If you have enjoyed the jobs you've been doing as you served in the military, choosing a degree based on those experiences is a great idea that can considerably shorten your path to graduation.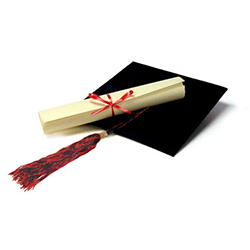 Coming Up in Part Three
We hope part two of this article clarified the process of turning your military education into college credit and gave you some ideas for how to compare schools and programs.
Planning to go to college while on active duty and nervous about how you'll juggle your military duties, personal life, and coursework? Don't worry!
Part three of this article will cover:
Tips for managing college if you're on active duty
About Trident University
Founded in 1998, Trident University International (Trident) is a leading online post-secondary university serving adult learners. Trident developed the Trident Learning Model, which employs case-based learning in an online setting to teach real-world relevant critical thinking skills to enhance student's lives and careers. Trident offers high-quality bachelors, masters, and doctoral degree programs, led by a qualified faculty team, over 80% of whom have doctoral degrees. Visit www.trident.edu, Trident's Facebook page, or call at 800-579-3197 to learn more about Trident's wide range of program offerings.