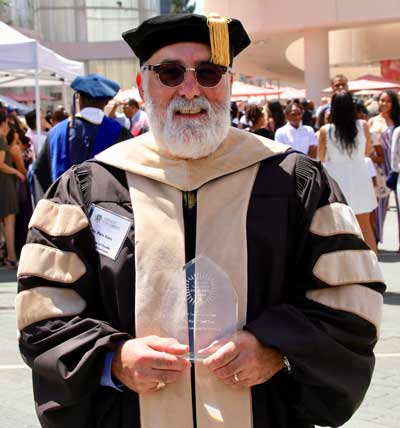 August 13, 2019 – Cypress, CA – Trident University International (Trident) is proud to announce that Dr. Pietro "Pete" Savo has been awarded the 2019 Teaching Excellence Award. He was presented with the award at the University's Commencement Ceremony on August 3 at the Segerstrom Center for the Arts in Costa Mesa, CA.
Trident's Teaching Excellence Award is given out each quarter, and recipients are nominated and voted on by students. Dr. Savo, who teaches in the College of Health and Human Services, was selected on the strength of commendations from students and faculty leadership.
Dr. Savo joined Trident as a part-time instructor in 2015 and has been a Full-time Professor in the Homeland Security department since July 2019.
Dr. Savo's expertise includes security, safety, emergency planning, aviation security, industrial security, computer security, preventive risk intelligence, critical mishap response, and state/federal regulatory compliance.
He has developed and deployed customized education curricula programs in facility security, cyber threat intelligence, cyber and physical security, homeland security, leadership development, lean manufacturing implementation, and workforce development.
Dr. Savo, a military veteran, holds a Doctorate in Business Administration (DBA) from Jones International University, a Master of Aeronautical Science from Embry-Riddle Aeronautical University, and a Bachelor in Business Administration from Sacred Heart University.
About Trident University 
Founded in 1998, Trident University International (Trident) is a leading online postsecondary university serving adult learners. Trident uses the EdActive™ learning approach, which employs case-based learning in an online setting to teach real-world relevant critical thinking skills to enhance the lives and careers of students. Trident offers high-quality bachelors, masters, and doctoral degree programs and certificates, led by a qualified faculty team, over 80% of whom have doctoral degrees. Trident is regionally accredited by the WASC Senior College and University Commission (WSCUC) and has over 32,000 alumni, including more than 27,000 with a military affiliation. The University has received multiple acknowledgements from Military Times, Victory Media's Military Friendly Schools, and Military Advanced Education & Transition for their dedication to military-affiliated students. Visit www.trident.edu, Trident's Facebook page, or call at to learn more about Trident's wide range of educational options.