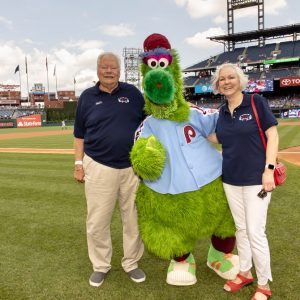 August 27, 2019 – Cypress, CA – On August 1, Trident University International (Trident) Professor Paul H. Amundsen organized Veterans Appreciation Day at Citizens Bank Park in Philadelphia, giving a group of eight wheelchair-bound veterans an opportunity to see a baseball game between the San Francisco Giants and Philadelphia Phillies.
This effort was organized in conjunction with Prof. Amundsen's work with the Newark, Delaware Elks Lodge. He is a longtime Elks member and a strong supporter of veteran-outreach initiatives.
Prof. Amundsen, a former college pitcher and lifelong baseball fan, had the honor of throwing the ceremonial first pitch of the game.
"We had a wonderful experience at the ballpark with the veterans," states Prof. Amundsen. "The hospitality of the Citizens Bank Park staff was second-to-none. Our vets deserve nothing less – all of them are heroes. My heartfelt thanks goes out to everyone involved in making this day a success."
Prof. Amundsen, currently a professor in Trident's University College, currently teaches Business Ethics and Business Law. He has practiced law for over 35 years, focusing on environmental law, health care law, and government regulation.
In 2013, he settled in the Mid-Atlantic area to become regulatory counsel for the largest petroleum refinery on the Eastern seaboard. In this role he handled all legal matters involving government agencies, most notably matters relating to the environment, health and worker safety, and corporate social responsibility.
Prof. Amundsen earned a J.D. cum laude from the Florida State University College of Law and a Bachelor of Arts in Religion and Social Science from Elon University.
About Trident University 
Founded in 1998, Trident University International (Trident) is a leading online postsecondary university serving adult learners. Trident uses the EdActive™ learning approach, which employs case-based learning in an online setting to teach real-world relevant critical thinking skills to enhance the lives and careers of students. Trident offers high-quality bachelors, masters, and doctoral degree programs and certificates, led by a qualified faculty team, over 80% of whom have doctoral degrees. Trident is regionally accredited by the WASC Senior College and University Commission (WSCUC) and has over 32,000 alumni, including more than 27,000 with a military affiliation. The University has received multiple acknowledgements from Military Times, Victory Media's Military Friendly Schools, and Military Advanced Education & Transition for their dedication to military-affiliated students. Visit www.trident.edu, Trident's Facebook page, or call at to learn more about Trident's wide range of educational options.