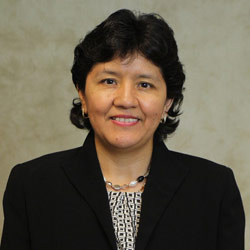 August 29, 2019 – Cypress, CA – Dr. Indira Guzman, Doctoral Studies Director in Trident University International's (Trident) Glenn R. Jones College of Business, was a featured presenter during a professional development workshop at the Academy of Management's (AOM) Annual Meeting on August 9 in Boston.
The workshop, "Professional Doctorates: The Road Towards Inclusion and Internationalization," allowed researchers and practitioners to exchange their experiences on how to better design and conduct academic research that involves practitioners in professional doctoral degree programs.
The workshop responded to an AOM request for studies related to practice-oriented academic programs for executives, including degrees like Doctor of Business Administration (DBA). The event featured exemplar professional doctorates from fourteen universities including Trident, Case Western Reserve University, Pepperdine University, and Temple University.
Dr. Guzman currently oversees Trident's Ph.D. in Business Administration and DBA programs. She assumed this role in 2015 and has been a faculty member at Trident since 2006. Prior to this, she was Director of the Computer Science and Information Technology Programs. Trident has offered online doctoral programs since 1998. She is a renowned expert on the development and delivery of online doctoral degrees.
Additionally, Dr. Guzman has made curriculum changes following standard learning outcomes of AACSB, Association of Information Systems (AIS), Institute for Certification of Computing Professionals (ICCP), and ABET, the accrediting body for computer science programs. She has been instrumental in making Trident an academic advocate of ISACA, Cyberwatch West, and NCWIT.
Dr. Guzman is an active participant in conferences in the United States and abroad, including serving as Co-chair for the Advanced Doctoral Consortium for the Americas Conference of Information Systems (AMCIS) earlier this month in Cancun.
In June, Dr. Guzman was Session Chair for the "IT Interests and Skills" paper session and Co-chair of the Doctoral Consortium at the ACM SIGMIS Computers and People Research: Enduring Issues in MIS and Work conference in Nashville. Also taking part in this conference were Trident Ph.D. graduates Dr. Kerri Wood and Dr. Laura Gurney, as well as current student Jeanetta Grover.
Dr. Guzman holds a Ph.D. in Information Science and Technology and Master of Science in Information Management, both from Syracuse University, and a certificate in Performance Assessment in Higher Education from Harvard University.
About Trident University 
Founded in 1998, Trident University International (Trident) is a leading online postsecondary university serving adult learners. Trident uses the EdActive™ learning approach, which employs case-based learning in an online setting to teach real-world relevant critical thinking skills to enhance the lives and careers of students. Trident offers high-quality bachelors, masters, and doctoral degree programs and certificates, led by a qualified faculty team, over 80% of whom have doctoral degrees. Trident is regionally accredited by the WASC Senior College and University Commission (WSCUC) and has over 32,000 alumni, including more than 27,000 with a military affiliation. The University has received multiple acknowledgements from Military Times, Victory Media's Military Friendly Schools, and Military Advanced Education & Transition for their dedication to military-affiliated students. Visit www.trident.edu, Trident's Facebook page, or call at to learn more about Trident's wide range of educational options.