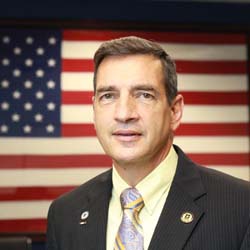 February 4, 2016 – Cypress, CA – Trident University International (Trident) is proud to announce that CSM (R) Philip F. Johndrow has been promoted to Senior Director of Military and Veteran Alliances. Johndrow, who has worked for Trident since February 2012, previously served as National Director of Strategic Military and Veteran Alliances.
In his new role, Johndrow will directly oversee and manage Trident's geographically dispersed Regional Managers, as well as lead the continued growth and development of the Trident Military Assistance Center, which launched in June 2015.
Johndrow is a 33-year veteran of the United States Army, retiring as the Command Sergeant Major for the U.S. Army Combined Arms Center, Fort Leavenworth. In this capacity Johndrow also served as the Command Sergeant Major for the U.S. Army Command and General Staff College and the Senior Enlisted Advisor for the Joint Center for International Security Force Assistance. Johndrow was inducted into the The United States Army Sergeants Major Academy's Hall of Honor on August 28th, 2015.
In addition, Johndrow actively presents for military and corporate audiences, speaking on topics such as critical thinking, leadership development, and the value of military veterans in the corporate world. He is a member of Centurion Military Alliance, The Association of the United States Army, and The National Historical Foundation.
CSM (R) Johndrow's work during his time at Trident has been exemplary. He is a seasoned leader who understands both the military and veteran student needs and understands the importance of education for all.
Esmeralda Silva, Vice President of Outreach & Strategic Alliances
Johndrow joined Trident as a student in 2007 while still on active duty, eventually earning two degrees. He holds a Master of Business Administration and a Bachelors of Science in Business Administration, graduating both summa cum laude.
Trident, a 100% online university that has been in operation since 1998, is regionally accredited by the Senior College and University Commission of the Western Association of Schools and Colleges (WASC). Active duty military, veterans, National Guard, and military dependents make up 79% of the University's student population, and Trident is proud to employ many veterans at its faculty, staff, and management levels. Of Trident's 32,000 alumni, more than 27,000 have a military affiliation.
About Trident University 
Founded in 1998, Trident University International (Trident) is a leading online post-secondary university serving adult learners. Trident developed the Trident Learning Model, which employs case-based learning in an online setting to teach real-world relevant critical thinking skills to enhance student's lives and careers. Trident offers high-quality bachelors, masters, and doctoral degree programs, led by a qualified faculty team, over 80% of whom have doctoral degrees. Visit www.trident.edu, Trident's Facebook page, or call at to learn more about Trident's wide range of program offerings.