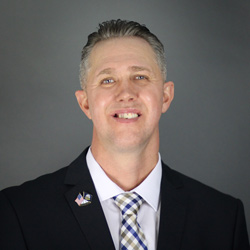 February 9, 2018 – Cypress, CA –Trident University International (Trident) would like to announce the addition of Michael Butterfield to its Strategic Alliances team. Butterfield will serve as Regional Manager of Strategic and Community Relations.
In this role he will be instrumental in the growth of Trident's Corporate and Career Learning Center, building strategic relationships with partner organizations, as well as connecting partner employees with high quality and affordable educational options.
Michael's commitment to education and desire to help others makes him a perfect fit to advocate and understand the unique needs of working adults.
Esmeralda Silva, Vice President, Strategic Initiatives and Government Relations
Butterfield is a 22-year veteran of the United States Navy, retiring in May 2017. During his time as a service member he earned numerous Commendation medals, as well as unit and campaign awards.
A graduate of Trident's Master of Arts in Education and Bachelor of Science in Business Administration programs, Butterfield understands the important role that education plays in professional and personal growth.
A true believer in the power of education to affect positive individual and collective change, Michael's positive attitude and familiarity with the experiences of Trident's military community makes him a great educational partner for our growing student population.
James Shiver, Trident's Director of Strategic University Alliances
While enlisted, he set a standard amongst his peers, challenging them to achieve comparable academic goals. Knowing that education is key to success in and out of the military, Butterfield strived to influence his fellow sailors to enroll in a degree program.
Born in Lexington, KY and raised in Jacksonville, FL, Butterfield enjoys spending time with his wife and children, and he is an active volunteer in his local community, helping to organize recent hurricane and education events. He is a strong believer in servant leadership.
About Trident University 
Founded in 1998, Trident University International (Trident) is a leading online postsecondary university serving adult learners. Trident uses the EdActive learning approach, which employs case-based learning in an online setting to teach real-world relevant critical thinking skills to enhance the lives and careers of students. Trident offers high-quality bachelors, masters, and doctoral degree programs and certificates, led by a qualified faculty team, over 80% of whom have doctoral degrees. Trident is regionally accredited by the WASC Senior College and University Commission (WSCUC) and has over 32,000 alumni, including more than 27,000 with a military affiliation. The University has received multiple acknowledgements from Military Times, Victory Media's Military Friendly Schools, and Military Advanced Education & Transition for their dedication to military-affiliated students. Visit www.trident.edu, Trident's Facebook page, or call at to learn more about Trident's wide range of educational options.