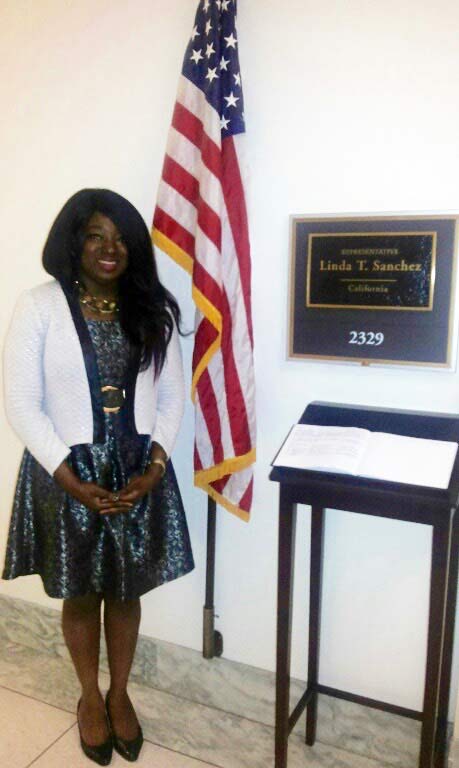 June 28, 2016 – Cypress, CA – Dr. Bernice B. Rumala, Director of Trident University International's (Trident) Ph.D. in Health Sciences Program and Head of Diversity, Equity, and Inclusion, visited Washington, DC in May as part of the American Public Health Association's (APHA) weeklong Presidents-Elect Meeting. Dr. Rumala is the President-Elect of the Southern California Public Health Association (SCPHA).
During her time in Washington, DC she had the opportunity to meet with elected representatives on Capitol Hill to discuss policy on current public health and education issues, specifically social determinants that negatively impact educational attainment and health including homelessness, hunger, abuse, and violence.
Due to the direct correlation between lower educational attainment and a higher risk of disease and early death. education is an important public health issue. Therefore, educational attainment is a public health priority and is grouped as an educationally relevant health disparity by the APHA's Center for School, Health and Education (CSHE).
Dr. Rumala met with key stakeholders representing 36 states, as well as the U.S. territory of Puerto Rico, at the APHA's national headquarters to network and discuss best practices in each representative's region, advocacy, health equity and social determinants of health, public health systems partnerships and diversity, equity, and inclusion.
In her role as Trident's Head of Diversity, Equity, and Inclusion, Dr. Rumala recognizes the importance of diversity, equity, and inclusion in shaping the efforts towards improved outcomes for underserved and disadvantaged populations.
The SCPHA, an affiliate of the American Public Health Association (APHA), provides public health leadership through the promotion of policy efforts, education, and public awareness. The APHA, founded in 1872, unites experts from all fields of public health in the promotion of public health issues and policies backed by science.
Under Dr. Rumala's leadership, Trident has signed a partnership agreement with SCPHA to share resources in the production of the Public Health Talks webinar series. Launched in December, Public Health Talks has been a key resource for students and alumni in the Trident community, as well as professionals in public health fields. This partnership will further enhance the webinar series through increased professional development and increased access to the regional public health community. Additionally, this autumn the SCPHA will co-sponsor an e-conference with Trident.
Dr. Rumala earned a Ph.D. with a Health Equity focus from Columbia University in New York, NY. She holds three master's degrees from Columbia, including a Master of Philosophy with a Health Equity focus, a Master of Education in International Education Development, and a Master of Arts in Health Education with a Health Disparities concentration. Additionally, she served as a Fulbright Fogarty fellow.
Trident, a 100% online university that has been in operation since 1998, is regionally accredited by the WASC Senior College and University Commission (WSCUC). Active duty military, veterans, National Guard, and military dependents make up 79% of the University's student population, and Trident is proud to employ many veterans at its faculty, staff, and management levels. Of Trident's 28,000 alumni, more than 27,000 have a military affiliation.
About Trident University 
Founded in 1998, Trident University International (Trident) is a leading online post-secondary university serving adult learners. Trident developed the Trident Learning Model, which employs case-based learning in an online setting to teach real-world relevant critical thinking skills to enhance student's lives and careers. Trident offers high-quality bachelors, masters, and doctoral degree programs, led by a qualified faculty team, over 80% of whom have doctoral degrees. Visit www.trident.edu, Trident's Facebook page, or call at to learn more about Trident's wide range of program offerings.