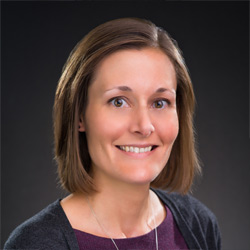 June 30, 2016 – Cypress, CA – Trident University International (Trident) has named Dr. Heidi Gilligan Dean of the College of Education (COE). Dr. Gilligan, who joined Trident in November of 2014, previously served as Program Director of the Doctor of Education (Ed.D.) and Master of Arts in Education (MAED) programs. She assumed her new role as Dean on June 8, 2016.
In this new role, Dr. Gilligan is focused on enhancing the student experience through improved dissertation support, including mentors and writing resources, new program concentrations, the further development of the relevant and timely curricula, and meeting the needs of online graduate students.
Dr. Gilligan is also focused on an increased interaction with local and national organizations to further support educational needs. In addition to stronger connections with community colleges and school districts, she will work to secure membership in the Carnegie Project on the Education Doctorate (CPED) and align program curriculum with the University Council for Educational Administration's (UCEA) National Education Leadership Preparation (NELP) standards.
In her new role as Dean of the College of Education, Dr. Gilligan will directly enrich Trident's academic quality and overall student experience through her years of experience in student affairs, student services, teaching, and program development.
Travis Allen, President & CEO
Since joining Trident, Dr. Gilligan has successfully developed the curriculum for the Ed.D. program, revised the Master of Arts in Education curriculum, and launched a number of graduate student support resources. She was instrumental in in the successful launch of the Educational Leadership Program at California State University, Long Beach in 2006. She has taught several Ed.D. classes at CSU Long Beach, including Research Methods, Survey Methods, and Inferential Data Analysis.
Dr. Gilligan earned an Ed.D. in Community College/Higher Education Leadership from CSU Long Beach and earned Bachelor of Arts and Master of Science degrees from San Diego State University. Her research interests include the financial literacy of college students, retention and persistence of non-traditional college students, and college access for under-represented populations.
Dr. Gilligan is a member of the American Educational Research Association (AERA), Student Affairs Administrators in Higher Education (NASPA), and American College Personnel Association (ACPA).
Trident, a 100% online university that has been in operation since 1998, is regionally accredited by the WASC Senior College and University Commission (WSCUC). Active duty military, veterans, National Guard, and military dependents make up 79% of the University's student population, and Trident is proud to employ many veterans at its faculty, staff, and management levels. Of Trident's 28,000 alumni, more than 27,000 have a military affiliation.
About Trident University 
Founded in 1998, Trident University International (Trident) is a leading online post-secondary university serving adult learners. Trident developed the Trident Learning Model, which employs case-based learning in an online setting to teach real-world relevant critical thinking skills to enhance student's lives and careers. Trident offers high-quality bachelors, masters, and doctoral degree programs, led by a qualified faculty team, over 80% of whom have doctoral degrees. Visit www.trident.edu, Trident's Facebook page, or call at to learn more about Trident's wide range of program offerings.