March 20, 2020 – Chandler, AZ –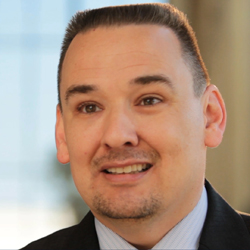 Trident at American InterContinental University (Trident) is proud to announce Dr. James "Greg" Hodges as the recipient of its Teaching Excellence Award for the Summer 2019 quarter. From the pool of faculty nominated, Dr. Hodges was selected as the winner by University leadership based on the strength of the positive feedback submitted by students.
Dr. Hodges enhanced the online teaching tools by providing real world examples, asking for everyone's thoughts on the scenario, and then posting what the final outcome was in the real situation. What an amazing way to see what we are learning applied to actual situations in schools! I am very grateful for being a part of Dr. Hodges's class and hope that I am able to benefit from his teaching style in future courses.
Kristine Boyle, Trident student
Dr. Hodges joined Trident's College of Education as a part-time professor in 2014, instructing doctoral level courses. He has held several positions in higher education including his current position as a Chief Academic Officer at a community college. Prior to this he worked as an elementary school teacher for 12 years.
A lifelong learner and teacher, Dr. Hodges has traveled to more than 70 community colleges across the country, training thousands of faculty members and administrators through workshops on cooperative learning, guided pathways, critical thinking, developmental education reform, and the national student success agenda.
He has been a member on boards of directors for local, state, and national organizations, including his current tenure with the Boys and Girls Club of the Blue Ridge and the Fellowship of Christian Athletes.
Dr. Hodges is a graduate of Trident's Ph.D. in Educational Leadership program. He holds a Master of Arts in Educational Leadership from the University of Phoenix, Master of Arts in Biblical Studies from Bethany Theological Seminary, and a Bachelor of Arts in Education from the College of William & Mary.
About Trident University International
Founded in 1998, Trident University International is a member of the American InterContinental University System, which is accredited by the Higher Learning Commission (hlcommission.org). Trident uses the EdActive™ learning approach, which employs case-based learning in an online setting to teach real-world relevant critical thinking skills designed to enhance the lives and education of students. Trident offers quality associate, bachelors, masters, and doctoral degree programs and certificates, led by a qualified faculty team, over 80% of whom have doctoral degrees. Trident has over 32,000 alumni, of which more than 27,000 have a military affiliation and has received acknowledgements from Washington Monthly, Military Times, and Military Advanced Education & Transition for their dedication to student success. Visit www.trident.edu, Trident's Facebook page, or call at to learn more about Trident's wide range of educational options.