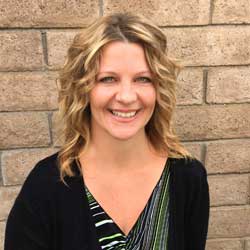 March 30, 2017 – Cypress, CA – Dr. Traci L. Marin, Doctoral Studies Director in Trident University International's (Trident) College of Health & Human Services, recently co-published molecular biology research in the journal Science Signaling.
The article, "AMPK promotes mitochondrial biogenesis and function by phosphorylating the epigenetic factors DNMT1, RBBP7, and HAT1," features in Jan. 31, 2017 issue (Vol. 10, Issue 464) of Science Signaling. A total of 10 co-authors were involved in this research, including Dr. Brendan Gongol of the Department of Biochemistry, University of California, Riverside and the Department of Cardiopulmonary Sciences, Loma Linda University.
In this study, the co-authors examined epigenetic control of mitochondria, concluding that AMPK coordinates mitochondrial function with energy status through epigenetic regulation of nuclear gene expression.
Dr. Marin is an experienced researcher who has been published in Circulation, Science and Signaling, and the Proceedings of the National Academy of Sciences (PNAS). She is a member of the American Academy of Sleep Medicine, American Lung Association, and American Association for Respiratory Care.
Dr. Marin joined Trident's faculty in January. In her current role, Dr. Marin oversees the development and growth of the College of Health and Human Services' Ph.D. in Heath Sciences program. She previously held leadership roles at Loma Linda University's School of Medicine, Victor Valley College, and the University of California, Riverside.
Dr. Marin is a graduate of University of California, Riverside's Ph.D. in Biochemistry and Molecular Biology program and Master of Science in Biochemistry and Molecular Biology program. She also holds a Master of Public Health in Epidemiology and Biostatistics from Loma Linda University.
Trident, a 100% online university that has been in operation since 1998, is regionally accredited by the WASC Senior College and University Commission (WSCUC). Active duty military, veterans, National Guard, and military dependents make up 79% of the University's student population, and Trident is proud to employ many veterans at its faculty, staff, and management levels. Of Trident's 32,000 alumni, more than 27,000 have a military affiliation.
About Trident University 
Founded in 1998, Trident University International (Trident) is a leading online post-secondary university serving adult learners. Trident developed the Trident Learning Model, which employs case-based learning in an online setting to teach real-world relevant critical thinking skills to enhance student's lives and careers. Trident offers high-quality bachelors, masters, and doctoral degree programs, led by a qualified faculty team, over 80% of whom have doctoral degrees. Visit www.trident.edu, Trident's Facebook page, or call at to learn more about Trident's wide range of program offerings.