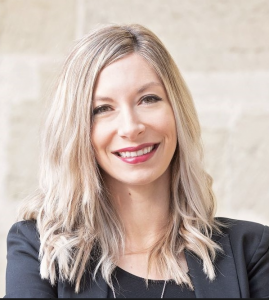 March 30, 2021 – Chandler, AZ – Dr. Cammy Romanuck Murphy has joined Trident University International's (Trident) College of Education as a Full-time Faculty member. She joined Trident as an adjunct faculty member in 2019 and is a 2018 graduate of the University's Doctor of Education (Ed.D.) program.
Dr. Romanuck Murphy, who currently teaches in Trident's Ed.D. and Master of Arts in Education programs, strives to create a positive student experience by maintaining an inclusive and equitable classroom environment. Her approach to instruction is student-centered and practical, and she strives to support students to increase their competence and confidence as contributing professionals in their fields.
She has served as a dissertation committee member and chairperson for doctoral students and has developed doctoral level courses.
In 2018 Dr. Romanuck Murphy co-presented "Developing a Dissertation: Practical Tips for Success" and "Writing a Dissertation: Practical Tips for Success" for Trident's Culture of Education and Research (CORE) webinar series.
Her next CORE webinar presentation, "Email Interviews in Qualitative Research: An Innovative Approach to Data Collection," will be on Wednesday, April 7. Dr. Allison Deegan, an experienced Trident doctoral committee chair, will join her as a co-presenter.
Dr. Romanuck Murphy brings eight years of experience as an educator and leader to Trident. Additional experience includes work with students in K-12 public schools as a Speech-Language Pathologist, adjunct faculty member at University of Nebraska at Kearney, academic editor, and speech pathologist consultant.
Dr. Romanuck Murphy's primary research interests include special education, educational leadership, online learning, and faculty and student success in higher education. She has published several peer-reviewed articles and professional development trainings for staff and students.
In 2020 she published the article, "A Qualitative Exploration of Connectedness During COVID-19: Faculty Perceptions Toward Communication, Collaboration, and a Sense of Community while Teleworking" in Frontiers of Education.
Dr. Romanuck Murphy holds an Ed.D. in Educational Leadership from Trident, a Master of Arts in P-8 Educational Administration from Wayne State College, and a Master of Science in Speech-Language Pathology and Bachelor of Science in Communication Disorders from Minot State University.
About Trident University International
Founded in 1998, Trident University International is a member of the American InterContinental University System, which is accredited by the Higher Learning Commission (hlcommission.org). Trident uses the EdActive™ learning approach, which employs case-based learning in an online setting to teach real-world relevant critical thinking skills designed to enhance the lives and education of students. Trident offers quality associate, bachelors, masters, and doctoral degree programs and certificates, led by a qualified faculty team, over 80% of whom have doctoral degrees. Trident has over 32,000 alumni, of which more than 27,000 have a military affiliation and has received acknowledgements from Washington Monthly, Military Times, and Military Advanced Education & Transition for their dedication to student success. Visit www.trident.edu, Trident's Facebook page, or call at to learn more about Trident's wide range of educational options.