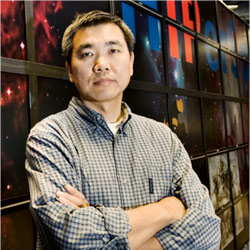 March 8, 2017 – Cypress, CA – Trident University International (Trident) is excited to announce that Mr. Qian Liu is now a full-time instructor in its University College. He has taught statistics, information technology management, and computer science courses at Trident for three years.
Liu has a strong background in research and software engineering. Some of his recent roles include work at at the National Center for Supercomputing Applications (NCSA) in Urbana, IL, the California Institute for Telecommunication and Information Technology in San Diego, and CineGrid. Like many of Trident's full-time faculty members, Liu's professional experience draws on both academia and the corporate world.
In his new role, Liu will be teaching statistics and technology courses in University College. His research and teaching interests include computer programming, network administration and management, database management, virtual machines and cloud computing, data-mining and search-engine, virtual reality, and computational statistics.
Liu holds a Master of Science degree from the University of Illinois at Urbana-Champaign and a Bachelor of Engineering from Xi'an Jiaotong University in Xi'an, China.
Trident, a 100% online university that has been in operation since 1998, is regionally accredited by the WASC Senior College and University Commission (WSCUC). Active duty military, veterans, National Guard, and military dependents make up 79% of the University's student population, and Trident is proud to employ many veterans at its faculty, staff, and management levels. Of Trident's 32,000 alumni, more than 27,000 have a military affiliation.
About Trident University 
Founded in 1998, Trident University International (Trident) is a leading online post-secondary university serving adult learners. Trident developed the Trident Learning Model, which employs case-based learning in an online setting to teach real-world relevant critical thinking skills to enhance student's lives and careers. Trident offers high-quality bachelors, masters, and doctoral degree programs, led by a qualified faculty team, over 80% of whom have doctoral degrees. Visit www.trident.edu, Trident's Facebook page, or call at to learn more about Trident's wide range of program offerings.