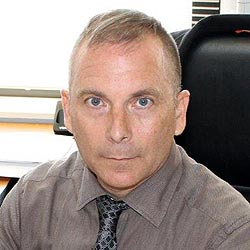 May 23, 2017 – Cypress, CA – Dr. Vincent Havrilko, faculty member in Trident University International's (Trident) Glenn R. Jones College of Business (GRJ-COB), recently had a paper accepted by the INFORMS Marketing Science Conference. The conference is scheduled for June 7th-10th at the University of Southern California in Los Angeles.
The paper, titled "An Empirical Investigation of Internet Addiction and Repeat Purchase Intention: Moderating Roles of intrinsic Motivation, Brand Trust and Risk Aversion," is based on his 2016 dissertation, conducted as part of his doctoral studies at Trident.
Considering the popularity of online commerce sites and social media channels, this key research examines the increased prevalence of internet addiction among consumers when it comes to repeat purchasing, and how personality and emotional factors can potentially impact addiction.
The paper's co-authors include Dr. Qin Sun, associate professor and Department Chair, Marketing, Logistics, and Operations in Trident's GRJ-COB, Dr. Indira Guzman, Doctoral Director of Trident's Ph.D. in Business Administration program, and Dr. Atefeh Yazdanparast Ardestani of University of Evansville.
Dr. Havrilko is a three-time alumnus of Trident, graduating from the Ph.D. in Business Administration, Master of Business Administration, and a Bachelor of Science in Business Administration programs.
Dr. Havrilko, completed his studies while serving for 22 years in the United States Air Force and recently retired as a Master Sergeant. He is currently an Air Force civilian serving the 366th Logistics Readiness Squadron, 366th Mission Support Group, 366th Fighter Wing, Air Combat Command at Mountain Home AFB in Idaho.
Trident, a 100% online university that has been in operation since 1998, is regionally accredited by the WASC Senior College and University Commission (WSCUC). Active duty military, veterans, National Guard, and military dependents make up 79% of the University's student population, and Trident is proud to employ many veterans at its faculty, staff, and management levels. Of Trident's 32,000 alumni, more than 27,000 have a military affiliation.
About Trident University 
Founded in 1998, Trident University International (Trident) is a leading online post-secondary university serving adult learners. Trident developed the Trident Learning Model, which employs case-based learning in an online setting to teach real-world relevant critical thinking skills to enhance student's lives and careers. Trident offers high-quality bachelors, masters, and doctoral degree programs, led by a qualified faculty team, over 80% of whom have doctoral degrees. Visit www.trident.edu, Trident's Facebook page, or call at to learn more about Trident's wide range of program offerings.