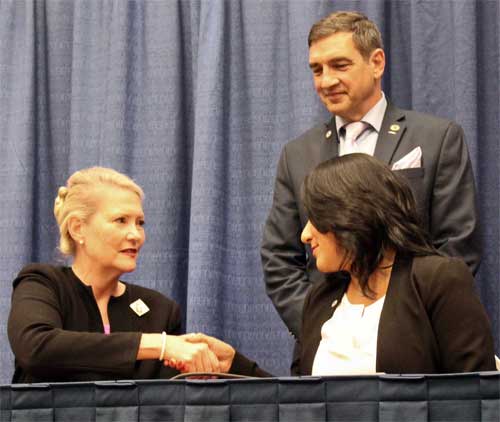 October 17, 2017 – Cypress, CA – Trident University International (Trident) is pleased to announce a three-year Education Services Agreement (ESA) with the U.S. Army Women's Foundation (AWF). This agreement was secured by Esmeralda Silva, Vice President of Outreach and Strategic Alliances and CSM (R) Philip F. Johndrow, Trident's National Director of Military and Veteran Alliances.
An official signing ceremony was held on Monday, October 9th at the 2017 AUSA National Convention and Exposition in Washington, DC.
As part of this ESA, Trident will offer two scholarships – one each at the bachelor's and graduate levels. The scholarships will be awarded on an annual basis and will cover the cost of tuition and fees at Trident. In addition, Trident will also provide a discounted rate for any member of AWF at the doctoral level and will extend partnership rate discounts for family members.
This is an historic and unprecedented event. Education has a halo effect that will strengthen our Army at all levels.
Anne Macdonald, President of the Army Women's Foundation
Scholarship recipients will be announced each March at the AWF Annual Summit in Washington, DC.
Education plays an important role in the strength of the United States Army. This partnership with the AWF will allow Trident to contribute to the growth of some of the talented women who have served, continue to serve, or will serve in the United States Army.
Travis Allen, President & CEO of Trident
Trident has long supported the military community. Active duty military, veterans, Army Reservists, National Guard, and military dependents make up 79% of the University's student population, and Trident is proud to employ many veterans at its faculty, staff, and management levels.
The Army Women's Foundation originated in 1969 to plan and raise money for a permanent museum for the Women's Army Corps at Fort McClellan in Alabama. As the influence of women in the Army increased, so did the mission of the original organization. Known as the AWF since 2005, the foundation continues to support the museum and promote the achievements and service of Army women – past, present, and future.
About Trident University 
Founded in 1998, Trident University International (Trident) is a leading online postsecondary university serving adult learners. Trident uses the EdActive learning approach, which employs case-based learning in an online setting to teach real-world relevant critical thinking skills to enhance the lives and careers of students. Trident offers high-quality bachelors, masters, and doctoral degree programs and certificates, led by a qualified faculty team, over 80% of whom have doctoral degrees. Trident is regionally accredited by the WASC Senior College and University Commission (WSCUC) and has over 32,000 alumni, including more than 27,000 with a military affiliation. The University has received multiple acknowledgements from Military Times, Victory Media's Military Friendly Schools, and Military Advanced Education & Transition for their dedication to military-affiliated students. Visit www.trident.edu, Trident's Facebook page, or call at to learn more about Trident's wide range of educational options.