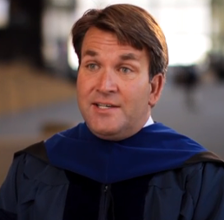 October 23, 2018 – Cypress, CA – Trident University International (Trident) alumnus Dr. Brian Kooiman recently published two pieces of academic literature, including a study on the role that video games play in learning and a paper that examines how to best implement Common Core State Standards (CCSS).
"Active Video Games: Paving the Way to Virtual Online Active Games," published in Research and Investigations in Sports Medicine, reviews recent literature on active video games and virtual online active games (VOAGs). The goal of this review was to help understand the outcomes associated with each type of gameplay to help provide suggestions for future research on VOAGs.
Dr. Kooiman also published "Common Core State Standards: Opportunities, Challenges and a Way Forward" in the International Journal of Arts and Sciences. This paper examined the divergent perspectives on CCSS implementation, and recommends a gradual and well-supported implementation to best prepare educators.
Co-authors on both papers include Dr. Wenling Li, Doctoral Director of Trident's Ph.D. in Educational Leadership program; Dr. Michael Wesolek, doctoral mentor; and Dr. Heeja Kim, professor, all representing Trident's College of Education.
Dr. Kooiman is a 2013 graduate of Trident's Ph.D. in Educational Leadership program and he currently serves as a Clinical Supervisor at Western Governors University. He has published 19 pieces of academic literature since earning his doctoral degree.
About Trident University 
Founded in 1998, Trident University International (Trident) is a leading online postsecondary university serving adult learners. Trident uses the EdActive™ learning approach, which employs case-based learning in an online setting to teach real-world relevant critical thinking skills to enhance the lives and careers of students. Trident offers high-quality bachelors, masters, and doctoral degree programs and certificates, led by a qualified faculty team, over 80% of whom have doctoral degrees. Trident is regionally accredited by the WASC Senior College and University Commission (WSCUC) and has over 32,000 alumni, including more than 27,000 with a military affiliation. The University has received multiple acknowledgements from Military Times, Victory Media's Military Friendly Schools, and Military Advanced Education & Transition for their dedication to military-affiliated students. Visit www.trident.edu, Trident's Facebook page, or call at to learn more about Trident's wide range of educational options.