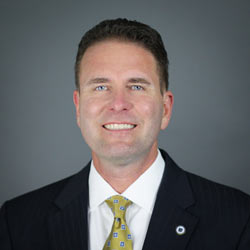 September 19, 2018 – Cypress, CA –Trident University International (Trident) has named James Shiver as the Manager of its Center for Career Planning & Workforce Strategies. In this role he will provide students and alumni with resources and services needed for career planning, development, and military transition, including regularly scheduled webinars and career fairs.
Shiver joined Trident in 2014 and has previously held leadership roles with both the Strategic University Alliances and Military & Community Relations teams. He reports to Esmeralda Silva, Vice President, Strategic Initiatives & Government Relations/Compliance.
During his time at Trident, Shiver has forged strong bonds across the business and military communities, serving as a key player in connecting both organizations and individuals with educational solutions.
James is a dynamic individual with a proven track record of meeting the diverse educational and professional needs of our students. With his energy and understanding of the Trident experience, our Career Center is set to begin an exciting new chapter of growth.
Esmeralda Silva, VP Strategic Initiatives & Government Relations/Compliance
Shiver is a 20-year military veteran, where he held various senior personnel positions and served as a medical program manager. He holds a Master in Business Administration and a Bachelor of Science in Health Sciences, both attained from Trident.
In his spare time Shiver serves on the Board of Special Operations Bionic Warriors, is a member of the Wiregrass Wounded Veteran's Committee, and serves on the Enterprise (Alabama) Chamber of Commerce Business and Workforce Develop Committee.
About Trident University 
Founded in 1998, Trident University International (Trident) is a leading online postsecondary university serving adult learners. Trident uses the EdActive™ learning approach, which employs case-based learning in an online setting to teach real-world relevant critical thinking skills to enhance the lives and careers of students. Trident offers high-quality bachelors, masters, and doctoral degree programs and certificates, led by a qualified faculty team, over 80% of whom have doctoral degrees. Trident is regionally accredited by the WASC Senior College and University Commission (WSCUC) and has over 32,000 alumni, including more than 27,000 with a military affiliation. The University has received multiple acknowledgements from Military Times, Victory Media's Military Friendly Schools, and Military Advanced Education & Transition for their dedication to military-affiliated students. Visit www.trident.edu, Trident's Facebook page, or call at to learn more about Trident's wide range of educational options.